Seacoast Commerce Banc Holdings Completes Loan Transaction for $7M
Sunday, March 29, 2015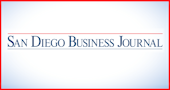 Seacoast Commerce Banc Holdings, a bank holding company for Seacoast Commerce Bank, announced the completion and funding of a bank holding company loan provided by Dallas-based NexBank SSB, in the amount of $7 million.
According to Seacoast Commerce Banc, $6 million of the proceeds from the holding company loan will be used to provide additional capital to the subsidiary bank, to support its continued growth. The terms of the loan agreement provide for a 10-year amortization with the loan all due and payable in five years.
"One of the reasons we formed our holding company was to provide flexibility in our capital raising efforts," said Richard Sanborn, Seacoast Commerce Bank's president and CEO. "The holding company loan from NexBank SSB will provide additional capital to the bank in a nondilutive manner to existing shareholders, and will help support our continued growth, which has been significant over the past few years."
Seacoast Commerce Banc Holdings, and its wholly owned subsidiary, Seacoast Commerce Bank, are headquartered in San Diego, with full-service banking branches in San Diego, Chula Vista, and Glendale, and several production offices in the nation.