DINING: CARROWS, COCO'S FACE CHALLENGE FROM THE LIMITED-SERVICE EATERIES
Texas Company Taking the Reins at Catalina Restaurant Group
Friday, March 27, 2015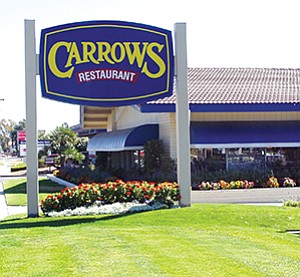 Catalina Restaurant Group Inc. is about to undergo the latest in what has become a series of corporate turnovers for the Carlsbad company's flagship brands over the past two decades.
In a deal scheduled to close on March 31, the operator of 149 Coco's Bakery and Carrows restaurants will have a new owner. Texas-based Food Management Partners (FMP) has agreed to buy Catalina for an undisclosed price from its current parent, a subsidiary of Japan's Zensho Holdings Co. Ltd.
A spokesman for Catalina and Zensho America Corp. said the companies were not discussing financial details of the deal or potential post-acquisition changes, referring questions to officials at San Antonio-headquartered FMP, who could not be reached for comment as of press time.
"After nearly a decade shepherding the Coco's and Carrows brands, we are pleased to have found the right owner to begin the next chapter in the CRG story," said Zensho America President Yasunori Hiraguchi in a statement.
Established Brands
In the same release, FMP co-founder and Manager Jason Kemp said the Coco's and Carrows brands are well-established and fit with the company's focus on "identifying brands with strong customer loyalty and an irreplaceable legacy."
FMP was formed in 1999 and is a multiconcept operator of franchised and independent restaurant brands, with 118 restaurants in 22 states. It is among the largest Buffalo Wild Wings franchisees, and also operates brands including Zio's Italian Kitchen, Don Pablo's and Furr's Fresh Buffet.
Carrows was started in 1970 as Carrows Hickory Chip Restaurant in Santa Clara, and Coco's was established in 1948 in Orange County. Both brands have gone through several ownership changeovers during the past 20 years.
The two companies were acquired in 1996 by Advantica Restaurant Group of South Carolina, which sold them to Catalina in 2002. Catalina in turn was acquired in 2006 by Tokyo-based Zensho, Japan's largest restaurant chain operator with more than 4,000 global locations.
Experts have noted that both Coco's and Carrows are regional full-service players that have struggled in recent years to grow sales, especially as families have turned more toward lower-priced, limited-service national chains such as Panera Bread.
Restaurant Recovery
The FMP acquisition comes as the U.S. restaurant industry continues to experience a steady but slow post-recession recovery. The nation's 500 largest restaurant chains grew sales 4 percent in 2014, reaching $274.4 billion, according to industry consulting firm Technomic Inc.
However, the limited-service, fast-casual eateries with midtier pricing — led by Panera Bread and Chipotle Mexican Grill — continue to siphon away sales from established fast-food and full-service chains.
Darren Tristano, executive vice president with Technomic, said recent positive changes in the economy give him reason to believe that things could be looking up for full-service, family-style restaurants like Coco's and Carrows, which compete in the same category with national players such as Denny's and IHOP.
Particularly since the third quarter of 2014, he said that segment has seen an uptick in visitors, thanks in part to improving national job numbers and falling gas prices, which have encouraged families to dine out more often. The full-service family category finished the year with U.S. sales up about 3 percent — below the overall industry rate of increase, but much better than the family segment's flat performance during most of the past five years.
In a good economy, Tristano said regional family chains such as Coco's and Carrows generally are better able than national chains to cater to regional tastes, and better able to capitalize on and grow their existing customer loyalty.
"The regional brands generally have pretty strong growth potential," Tristano said. "Family restaurants have shown they're good at creating value, and they've stayed affordable in the years since the recession."
About two-thirds of Catalina's restaurants are Coco's, and that brand has generally fared better in terms of customer traffic and sales, though the privately held Catalina does not break down performance figures.
According to the industry publication Nation's Restaurant News, Coco's had estimated U.S. sales of $141.5 million in 2013, down nearly 2 percent from the prior year; and Carrows posted estimated sales of $55.2 million, down 5 percent from 2012. As of 2013, there were 113 Coco's and 58 Carrows in operation, and some of those have since closed.
The publication reported that Catalina has 14 franchised locations, with the remainder company-owned. The restaurants operate primarily in California, with a relatively smaller presence in Arizona and Nevada.
In 2012, Catalina Restaurant Group sought to expand Carrows' customer base beyond its longtime loyal following among older patrons. To draw young consumers and families and attract larger dining parties, it tested out Asian and Italian-style offerings, such as pastas and new salads, at a few Carrows locations.
To maintain a family-style image over the years, Catalina has generally resisted adding bar service and alcoholic beverages to its restaurant offerings, even as competitors have increasingly expanded into sales of items such as beer and wine to boost customer tabs.