SPORT: GROUP WILL SOON MOVE TO NEW OFFICES
S.D. Sport Innovators Graduates From Connect
Friday, March 27, 2015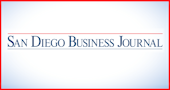 San Diego Sport Innovators (SDSI), a nonprofit business accelerator, announced that it has parted ways with its parent company Connect and become a free-standing organization.
"This is a very exciting time for SDSI," said Bill Walton, SDSI executive chairman and NBA Hall of Fame inductee. "Like so many other San Diego companies and organizations, Connect has always been there for SDSI, ready to offer support, assistance and anything else that we ever needed, every step along the way. Connect has been instrumental in transforming SDSI from an idea into a standalone organization with 80 members strong and growing."
Connect CEO Greg McKee praised the move. "The original strategy of providing funding, programming structures and personnel support to SDSI has worked well and we wish the organization great success as the team embarks on their next stage of SDSI's journey."
Bob Rief, recently named SDSI's executive director, thanked Connect for its support.
"SDSI was birthed by Connect with the mandate to increase the footprint of the local sport and active style business community," he said. "It has always been a collective goal for SDSI to become an independent organization and now, seven years since inception, we have reached the stage where we can consider ourselves sufficiently "incubated" to stand alone. This is a great milestone for SDSI and we are very thankful for the belief and backing Connect has provided us to make this possible. Over the next month or so we will locate to new offices and begin the processes necessary to support SDSI."