FOUR YEARS INTO IMPACT OF REFORMS, LOCAL BANKERS EXPECT MORE CONSOLIDATION
More Mergers Ahead
Originally published March 27, 2015 at 4 p.m., updated April 2, 2015 at 11:38 a.m.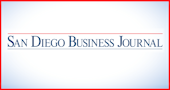 Get ready for more bank mergers in San Diego County and elsewhere as new regulations and low interest rates put a squeeze on profits.
"We really have seen consolidation in the industry, certainly over the past three years," said Beth Mills of the California Bankers Association. "With some of the smaller banks in this regulatory environment, it's just not possible to exist anymore. A lot of our smaller banks will talk about how they're having to hire more staff to deal with regulations as opposed to lending in the community."
Often, that has led banks to merge as a way to consolidate resources.
"You see market consolidation to be more efficient," said Mike Peters, executive vice president of Pacific Western Bank. "It's really tough with a small bank and the regulatory environment to make a profit for shareholders."
Following the subprime and economic crisis, the Dodd-Frank act was signed into law in 2010. The law brought sweeping reforms to the financial industry including the banking sector. Many community banks complained the reforms were unfairly being applied to them when they were not the problem. Not only did banks have to pay additional compliance and personnel costs but in some cases they had to pay to determine exactly what the rules are. Mergers were one effective way to deal with increasing compliance costs.
Between 2011 and 2014, the number of FDIC-insured banks headquartered in California dropped from 253 to 210, Mills said.
In 2014 alone, the number of state-chartered banks in California dropped from 160 to 155 due to mergers and acquisitions, according to the California Department of Business Oversight.
Only Brake Would Be Climbing Costs
"The trend will continue," said Dino D'Auria, chief banking officer of Silvergate Bank. "The only thing that would stop it is, it's getting more and more expensive to buy banks. "
At some point, bankers might say the cost of acquiring other banks or merging is too great.
"It doesn't appear that that point has been reached," D'Auria said. "You need to be larger to be able to support the increased costs."
In San Diego County alone:
Western Alliance Bancorporation — the parent company of Torrey Pines Bank — announced in early March that it would merge with Bridge Capital Holdings.
American West Bank announced in November that it was merging with Banner Corp.
Pacific Commerce Bank and Vibra Bank announced in October that they were merging.
Grandpoint Capital Inc. and Regents Bancshares Inc. announced in September 2013 that they would merge.
"I think we're going to be in kind of a long-term consolidation nationwide," said Western Alliance Chief Financial Officer Dale Gibbons.
"You look at other developed nations, we have far more banks than those other entities," Gibbons said. "Obviously, you want competition. At some level, when you have such high costs, it becomes more difficult to be able to cover those costs."
In the case of Western Alliance's merger with Bridge Capital, Gibbons said "We saw this primarily as an opportunity to increase our loan opportunities and our deposit structure."
The merger will create a bank with more than $12 billion in assets and combine banks that were in different markets, Gibbons said.
"This is about how we can grow more and faster together than some transactions, which are all about cost saving and how do we squeeze down costs," Gibbons said. "We're not going to be closing any offices, either at Bridge or Western Alliance."
Regents Bank President and Chief Executive Officer Steve Sefton has been through two mergers and said, "It's worked out very well."
"We've grown our bank from just shy of $400 million in assets by another close-to $200 million in assets," Sefton said.
The Blended Company
Nevertheless, "putting two organizations together is a challenge," Sefton said.
For starters, there can be layoffs if the merged banks close offices or even if they simply consolidate operations.
"One of the biggest expenses a bank has is salaries, and positions do get eliminated," said Peters of Pacific Western. "We had bought a bank last year that had 15 branches and we only kept five of the branches."
On the other hand, when Pacific Bank acquired CapitalSource Bank in 2014, "There were no layoffs because our branches were not overlapping," Peters said.
Aside from internal bank operations, Sefton said mergers can cause some minor issues for customers.
"Clients have to get a new password, little things like that. That causes some amount of limited disruption," Sefton said.
Overall, many bankers said mergers work to the clients' benefit.
"When you merge two banks together, they're a bigger bank and they can provide more services," Peters said. "I see it beneficial to clients. You're offering more services and may be in more locations."