TECH: SERVICES AND PRODUCTS USE POPULAR BUSINESS MODEL
Local Apps Aim for 'Uber of X' Sweet Spot
Friday, March 27, 2015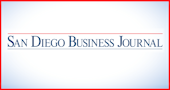 Closet entrepreneurs in San Diego — and everywhere else for that matter — are coming out of hiding to join the startup scene hoping to develop an app that achieves the same success as Uber and Lyft.
And for good reason: Uber is one of the hottest companies of the decade, with a reported valuation of $41.2 billion — a staggering number considering the company was only founded in 2009.
Uber, a car-sharing app for mobile phones, has bested the market capitalizations of major public companies, such as Delta Air Lines Inc. and Kraft Foods Group Inc., and is on a trajectory to trump traditional taxi services in metropolitan areas.
Uber has inspired a whole new category of startups to gain traction, with everyone claiming to be the Uber of something. Locally, San Diego has seen its fair share of the "Uber of X" fever.
Rancho Bernardo-based Lawn Love claims to be the Uber of lawn service and HouseCall Pro is the Uber of maid service. Both companies have managed to bring in a few million dollars in fundraising, with plans to expand on a national scale.
The Uber for X wave has launched a sharing economy with seemingly limitless applications, with services varying from the Uber for flowers, the Uber for laundry and even the Uber for medical marijuana delivery.
With the millennial generation maturing into adulthood, the Internet-raised 20-somethings consider convenience to be incredibly valuable.
"I will always use an app if I can," said Rakesh Thakur, a graduate student at San Diego State University. "It's much easier because I don't need my wallet or credit card to order and pay for something."
Bring It
A San Diego physician with UC San Diego Health System was inspired to develop an app for any kind of delivery — even if it's simply a request for peanut butter.
"Every night when I'm on call at the hospital, I see patients and families wishing aloud that someone would bring them this or that," said Michel Choueiri, founder of PeerShip LLC. "If they're craving peanut butter, for example, wouldn't it be great if someone could deliver it to them?"
The traditional model of delivery is infrastructure heavy with warehouses, fleets of trucks, fuel and drivers required.
PeerShip's model is a peer-to-peer delivery marketplace that allows people to make money by simply being out and about and going in a specific direction.
Choueiri and his business partner Navid Nooryshokry are focusing on the San Diego State University campus as a starting point, with about 400 downloads and 50 students in the beta testing group.
"Our goal is to start with a small ecosystem and connect the students first," Choueiri said. "We want the courier to make the majority of the money."
PeerShip's business model is to allow the user to name the price they're willing to pay for delivery, and then PeerShip tacks on a 99 cent fee. The courier can then accept or decline the proposed rate.
Choueiri said once beta testing is complete, PeerShip will officially launch in the San Diego area. The app is currently available for free download on the Android marketplace Google Play and Apple App Store.
Hire Power
Money doesn't grow on trees, but John Haddad, a surface warfare officer in the Navy, plans on changing that.
Haddad developed The Daily Tree, an app that connects employers with temporary help.
After dining at a popular restaurant during its off season, Haddad watched as the business was overwhelmed and understaffed.
"There was a high volume of customers that day, and the owner was not ready," Haddad said. "I watched the owner struggle to bartend, serve, and clean tables. That is when the idea came to me. If only there was a way for this business owner to get an employee instantly."
The Daily Tree app, launched in February 2015, allows small businesses to instantaneously hire people from their community to meet their business needs, Haddad said. It also gives everyday people the opportunity to earn extra cash.
The concept is simple — employers post jobs under one of the five categories: manual labor, office work, construction, food services and professional services. The employer lists the service needed, the length of the shift and how much they're willing to pay.
Right now, for example, a barbershop in San Diego is looking for a shoe shiner for an eight-hour shift. They're willing to pay the contract laborer $100 for the job, and they've listed an ad on The Daily Tree.
Haddad said he is targeting businesses in the downtown area, and promoting The Daily Tree on social media. The app has about 100 downloads, and is listed for free on the Android and Apple markets.
Haddad is currently seeking venture capital and angel investors, he said.