TRAVEL: MILLENNIALS' TASTES, 'AIRBNB' OPTIONS ARE SECTOR'S CHALLENGES
The Good News Keeps Arriving for the Local Hotel Industry
Friday, March 27, 2015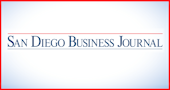 San Diego County's hotel industry is on track to see another stellar year in 2015, and likely into 2016, said experts at a recent Lodging Industry Forecast forum in Carmel Valley.
That's in spite of two challenges: the need to cater to a growing contingent of millennial-age travelers expecting a smooth high-tech experience when it comes to bookings and check-ins, and the potential impact of sites such as Airbnb that let any homeowner or renter become a host with paying customers.
The forum's presenter, San Diego-based hospitality management and consulting firm R.A. Rauch & Associates Inc., expects local hotels this year to surpass the metrics for 2014, which was a solid year for the industry when it came to occupancy, room rates and revenue per available room (RevPar). This year should see at least 1 percent growth in occupancy over last year, with daily rates growing 5.4 percent and RevPar rising 6.5 percent.
Company President Robert Rauch said the hotel industry is in the "early part of the seventh inning" when it comes to the post-recession recovery, with more room to grow both locally and nationally.
The Business Trip Stays
Despite years of predictions by the tech sector that video-conferencing would make business travel obsolete, corporations continue to send employees across the country to meet clients face-to-face, especially if they are involved in sales.
"It's still very tough to close deals with video-conferencing," Rauch said, adding that corporate group meeting business also continues to improve locally and nationally thanks to the strong U.S. economy.
International travelers present a major opportunity for the local region, especially after last year's moves by the U.S. government to relax visa restrictions on travelers from China. Visitors from Brazil, Russia and India have already grown significantly during the past five years, Rauch said.
Millennials — whom Rauch said comprise about 33 percent of all hotel stays — not only prefer checking in via their mobile devices, they also have less loyalty to established corporate brands, choosing more often to stay at hotels under independent brands.
Rauch said that poses a challenge for companies looking to build repeat business from that crowd, which is less attracted than other consumer groups to traditional loyalty rewards programs.
Alan Reay, president of Irvine-based research and brokerage firm Atlas Hospitality Group, noted that despite all the attention placed on millennials, the baby boomers — the youngest of whom turned 50 last year — will have the biggest impact on the hotel industry in 2015.
Reay said baby boomers nationwide are forecast to own 60 percent of the country's wealth and account for 40 percent of the spending this year.
"For hoteliers to earn their business, they need to appeal to the 'forever young' attitude and desire for experiential travel," Reay said. The need to offer guests special experiences tied to their destinations, he said, is partly reflected in the proliferation of "lifestyle" brands, with different price points, being rolled out by the major chains, including Marriott, Hilton and Starwood.
Experts said increasing competition in the world of online travel booking sites, with companies such as Amazon getting into the game, promises to drive down commission fees paid by hotels for rooms booked through those venues, which should help boost hotel profitability.
Not Your Father's 'Houseguests'
However, the sharing economy poses new threats to the industry, with Airbnb and a growing slate of similar sites threatening to impact hotels in the way that ride-sharing services — such as Lyft and Uber — have upended the taxi industry.
Forum experts estimated that Airbnb and similar sites now account for about 6 percent of room stays in markets such as New York City and San Francisco. A study of the San Diego market has not been completed. Local government officials are currently reviewing new rules intended to clarify when and where temporary room stays are permitted, and how those stays should be taxed.
A local host group known as Short Term Rental Alliance of San Diego recently reported that the local region had nearly 3,500 listings on Airbnb, with an additional 600 on the competing site VRBO, which stands for vacation rental by owner.
By comparison, the region has approximately 474 hotel and motel properties, with nearly 60,000 rooms available, according to the San Diego Tourism Authority.
Forum experts said the current supply-and-demand dynamics generally favor hoteliers for pricing and occupancy. But an expected rise in the local room supply could change the dynamics in coming years and make the climate less rosy for hotel operators and investors, said President Gary London of local consulting firm The London Group.
Data from the tourism authority indicates that based on construction projects currently underway or in the pipeline, San Diego County is expected to add 879 new hotel rooms in 2015, an additional 1,092 in 2016 and 721 in 2017.
San Diego Lodging Forecast, 2015
Occupancy: Will top 75 percent, for 1 percent growth above 2014
Average daily room rate: Should top $150, for growth of 5.4 percent
Revenue per available room (RevPar): Should grow 6.5 percent from 2014's $106