STARTUPS: CROP TECHNOLOGY, TAX FILING GET NOTICED IN AUSTIN
Firms' Reputations Grow at SXSW Event
Friday, March 27, 2015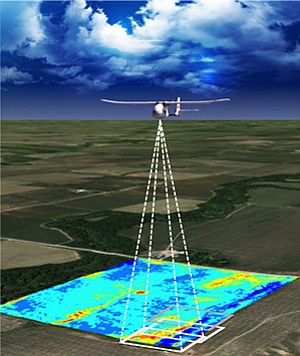 The knot of people who converged at the South by Southwest festivals saw and heard the best of what's new. Judges thought two San Diego companies, Slantrange Inc. and Common Form Inc., belonged in that category.
Representatives from both businesses made quick pitches and took honors in the SXSW Accelerator startup competition March 14-15 in Austin, Texas.
Slantrange, based on Morena Boulevard with an office in Nebraska, helps farmers manage crop health with drone imagery and big data. The business won top prize in the contest's Innovative World Technologies category.
Common Form, based in North County, provides a low-cost line of online tax preparation software. Though it was not a finalist in its category — Enterprise and Smart Data Technologies — show organizers found it worthy of mention as an alternate.
Both companies are run by young people able to draw on San Diego's deep-rooted regional strengths. Slantrange combines unmanned aircraft and remote sensing, while Common Form's lineage can be traced backward through Intuit Inc.'s TurboTax unit to its roots in ChipSoft and SAIC.
A Sprouting Business
Neither Slantrange CEO Mike Ritter nor top engineer Mike Milton has a background in farming. So far that hasn't seemed to matter. The former employees of General Atomics Aeronautical Systems Inc. saw a way to turn swords into ploughshares — that is, to apply battlefield survey technology to agriculture.
Slantrange makes software and sensors carried by small unmanned aircraft. It also processes data after a survey flight. The aircraft themselves come from outside vendors.
For starters, the business has its focus on corn — the largest crop in the United States — and soybeans.
Throughout the growing cycle, Slantrange can compile images that yield useful data. At the start, Ritter said, its sensor can see how many seedlings sprout, replacing the old-fashioned process of counting a sample area by hand.
Sensor-equipped aircraft can take weekly surveys, looking for nutrition deficiencies, dehydration, or problems with insects, bacteria or weeds. (A single weed that goes to seed can turn into "a huge problem," Ritter said.)
On Target
Rather than applying a remedy to the whole field, a farmer can treat only that portion of the field that needs it. Such technology could prevent the excessive application of fertilizer and the potential for pollution, Ritter said.
Ritter recalled going to Nebraska to consult with farmers on how Slantrange might apply its aerial survey technology to their businesses. He got more than he bargained for. The Nebraskans were so intrigued by the business plan, they offered to invest.
As of last week, the company had collected $825,000 of a $900,000 seed round, Ritter said.
Ritter said there may be business opportunities in the data that Slantrange processes, once that data is scrubbed of details about who owns a particular piece of land.
Slantrange plans to stick with the dominant crops in Nebraska and Kansas for now, but sees potential in other crops and other geographies — and maybe other vertical markets. Ritter said the business might even go to work closer to home, in the Imperial Valley.
Take It EZ
Common Form CEO Bill Hendricks was preparing for a new wave of income tax filings when he met with a reporter in late March at a coffeehouse in Rancho Bernardo.
As if he didn't have enough to deal with, he was fighting off a cold, too.
His young business caters to the people who file IRS Form 1040 EZ, letting people complete the process on their smartphones, tablets or PCs. Frequently, it takes no more than five minutes.
People filing simple returns make up the largest portion of the tax market: they are 96 million strong, out of 145 million total filers, Hendricks said.
This is the second tax season for Hendricks and the business's three other core players, co-founders Charles Logston and Austin Marron, and adviser David Kirven. All four previously worked on the TurboTax product at Intuit (Nasdaq: INTU).
Hendricks said that the group behind Common Form has produced something different from his previous employer. He said that Intuit optimizes its product for people with complicated tax situations.
"We learned while building Common Form that to have the best user experience, you have to assume the customer has simple finances or assume they have complex finances. The segment you optimize for will have a great experience while the other will have a subpar experience," he said.
Common Form appeared on the market in February 2014, and was able to grab a few customers prior to April 15 of that year. The company is busier these days. After experimenting, the group behind Common Form hit on the optimal price point of $9.99 for customers collecting refunds. As for people who owe the IRS? There's no charge.
Hendricks is a 38-year-old Texan who came to San Diego to work for Sony Electronics, then moved over to Intuit. Austin is familiar territory. He went to the University of Texas in the 1990s. More recently, Common Form participated in Austin's Techstars business accelerator program; Techstars is now the company's primary investor.
Then there was South by Southwest. When Hendricks participated in the event — which also has music and film components — he didn't have to book a hotel room. He had the comforts of his brother's place in the city's Oak Hill neighborhood.