LAW: COVINGTON & BURLING SHUTTERS OUTPOST; TO HOUSE SOCAL EFFORTS IN LOS ANGELES
Firm's Legal Presence in San Diego Proves Short-Lived
Friday, March 27, 2015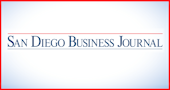 Washington, D.C., law firm Covington & Burling had high hopes for Southern California when it opened a San Diego office by snagging a group of patent litigators from a struggling firm in 2008.
But when growth at the office fell short of expectations, Covington executives set their sights north. Earlier this month, the firm closed its San Diego office, shifting its focus to a new beachhead in Century City.
"We thought it was going to be more effective for us to build a diversified practice offering in Los Angeles than we were able to build in San Diego," said Timothy Hester, chairman of Covington's management committee. "We were in San Diego since 2008, but we really hadn't diversified beyond patent litigation."
Covington, at least thus far, appears to be achieving its goal to diversify its practice areas in Southern California. Already, the firm has picked up René Siemens, a nationally recognized insurance recovery lawyer; Dan Shallman, a white-collar defense litigator; Aaron Lewis, a former federal prosecutor; and Robyn Polashuk, a media and entertainment lawyer.
"The future for the office is very exciting," said Siemens, who was most recently a partner at Pillsbury Winthrop Shaw Pittman. "The firm is opening here in the right way. I think there are a lot of firms that have entered this market, which is very competitive, without thinking about how they want to do it. Covington has given a lot of thought about this office."
Covington's move comes as the economy has rebounded and demand for legal services has increased, an uptick that is drawing more attention to the L.A. market.
If a national law firm doesn't already have a presence here, said Barry Weisz, who manages the two-year-old Century City office of St. Louis' Thompson Coburn, now is a great time to open a branch.
"There are a lot of firms that have failed in Los Angeles," he said. "But the good news for most firms like ours, or Covington, is a bunch of (home office) clients have business in Los Angeles."
Despite the competitive nature locally, it's possible for new entrants to stand out by being strategic with pricing. Partners at Weisz's firm charge hourly rates between $400 and $600, significantly higher than the average going rate in the Midwest but about $200 below the typical rate in the LA legal market.
Still, Covington is likely to endure its fair share of challenges as it looks to make a name for itself in Los Angeles, where the market is saturated with high-profile lawyers.
Tom Hopkins, partner-in-charge of Cooley's Santa Monica office, said it can be difficult to grow an LA office from the ground up. Cooley, which expanded into Los Angeles in 2012, has staffed its local office by acquiring lawyers from various other firms instead of hiring a group in bulk from another firm.
That strategy, which mirrors Covington's, has worked for Cooley, but Hopkins said it yields slower growth.
"A big challenge in any office-building is integrating the people you're throwing together that used to be at different firms," he said. "We have passed on a lot of great candidates, in terms of revenue generation and the like, because we just didn't feel they would be a good fit."
Founded nearly a century ago in the nation's capital, Covington boasts a strong reputation for its regulatory legal work.
During its early years, the firm kept busy as litigation surrounding President Franklin Delano Roosevelt's New Deal programs flooded the courts. Business picked up considerably after World War II as corporations increasingly sought legal counsel on regulatory issues.
As decades passed, Covington's reputation inside the Beltway continued to grow as a slew of prominent attorneys called the firm home. Covington's Chuck Ruff, for instance, represented President Bill Clinton during his impeachment trial.
It wasn't until 1988 that Covington expanded beyond Washington. It started with an office in London, followed by a shop in Brussels, eventually launching a New York office in 1999. Today, roughly 850 lawyers work for Covington in 10 offices around the world.
While the focus still centers on regulatory and policy matters, the firm has since diversified to include a wider range of complex business deals and disputes.
Covington entered Southern California when it brought the group of eight lawyers aboard shortly before their firm, Heller Ehrman, went out of business. The San Diego attorneys, including three partners, will either relocate to Century City or work remotely from San Diego, said Hester, the management committee chairman.
"We really wanted to have a single, consolidated focus on LA," he said, "so we didn't want two offices in Southern California."
Including the patent litigation group, there are now 14 lawyers based in
Century City.
Shallman, who joined from O'Melveny & Myers this month, said the transition so far has been seamless, but the smaller-office environment will likely take some getting used to.