Executive Q&A: Faheem Hasnain, Receptos
Friday, March 27, 2015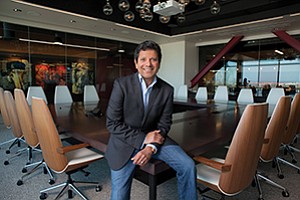 As Faheem Hasnain walks me through rooms of glass and metal, I can't help but compare the Receptos headquarters to pictures I've seen of the Google complex.
Pingpong tables and shuffleboard tournaments are held frequently in the biotech's break-room, and a king-sized chalkboard stands in the corner with winners and losers scratched in white chalk.
Rustic wood and industrial lighting are softened with bright colors and cozy seating — a setting fit for a coffee shop rather than a laboratory.
"Why does an office have to feel like an office?" asks Hasnain, president and CEO of Receptos, as he gestures to the wide open hallways and glass walls. "I wanted to create an environment that augmented the culture we built in the company. It's about transparency, collegiality. It's about having fun. It's even a little whimsical."
We walk through the busy lab space while the scientists attempt to work around us. They tease Hasnain for stepping on their turf, but he takes it well, joking with lab techs while poking around their shelves.
"What's this?" Hasnain asks the scientists, pulling down a piece of graffiti from a shelf.
Sloppy text scrawled on Styrofoam reads, "Hold onto your stock!"
"That's our motivation," the scientist replies.
And it seems to be working. Receptos attracted global attention late last year when positive trial data boosted stock 41 percent overnight from $67 per share to $96. The stock has climbed steadily ever since, currently selling for $137.50 per share on the NasdaqGS under the stock symbol RCPT.
The company is developing a multipurpose drug called Ozanimod (formerly known as RCP1063) that may treat multiple sclerosis, Crohn's disease and ulcerative colitis. Experts are calling it a "pipeline in a product" due to the various potential applications and it's quite possible that Ozanimod will debut as a blockbuster drug bringing in billions annually.
Hasnain joined Receptos in 2010, just a year after the company was founded. Prior to joining Receptos, Hasnain was the president and CEO of Facet Biotech Corp., a biology-driven antibody company with a focus on multiple sclerosis and oncology. He held that position until the company's acquisition by Abbott Laboratories in 2010.
Before that, Hasnain served in executive roles at PDL BioPharma Inc., Biogen Idec Inc., Bristol Myers Squibb and GlaxoSmithKline.
Hasnain recently answered questions for the San Diego Business Journal. Here are some excerpts:
What makes Ozanimod a potential blockbuster drug?
In MS specifically, Ozanimod is a high-efficacy drug which will compete directly with Novartis' Gilenya. Our drug has the same target as Gilenya, but the difference is the data suggests Ozanimod has a significantly improved safety profile — most notably with cardiac and liver toxicity.
And by the way, Gilenya sold about $2.5 billion worldwide last year. We think we can improve on that, so there's a sizable opportunity for our drug.
Where would you like to see the company in five years?
By 2020, I would hope to have Ozanimod approved in three indications. I would also like to expand our pipeline so that we have a number of drugs being developed.
Most importantly, I would like this company to be known as one of the most exciting and most vibrant companies in the biotech industry. I want it to be a place where people love coming to work. If you're not working here, I want you to wish you were.
The only way we're successful is by having great people. This business is so complex and so challenging, so we need the best and the brightest.
What would you say is your biggest "lesson learned" from your career thus far?
Culture matters. It's easy to say, but it's difficult to execute on. It starts at the top, and my executive team leads by example. Spending time communicating the values and expectations that contribute to a healthy culture is something you just can't do enough of.
I've gone from big pharma companies to smaller biotechs, and I really do believe through that experience that we can keep this culture alive and healthy even if we turn into a big company.
Are you open to the idea of a big pharma company buying Receptos if it was an attractive deal?
I don't think there is ever a strategy that speaks to being acquired. It's not to say it couldn't happen, but as soon as you start thinking that way you start thinking short-term. You have the danger of not designing your trials with the rigor and the discipline you would otherwise. You have the danger of short-circuiting things like building a healthy culture.
The fact of the matter is that companies do get acquired. But thinking about a strategy as an end goal is actually not a good thing to do.
Is there any personal connection to inflammatory conditions? Is there anybody you knew who suffered from MS that impacted your decision to work in this space?
My first encounter with MS was when I was about 12 years old. My brother got married to a wonderful woman. She was in law school at the time. Back in the '70s there really just wasn't any treatment for these patients. She died about 15 years after her diagnosis. Her disease got increasingly progressive in nature and increasingly debilitating, and it was just terrible to see that happen.
I saw you went to school in Ontario. Are you Canadian? What do you miss about Canada?
Yes, I'm Canadian. I miss family the most. My wife has 15 brothers and sisters, and I've got six and they're almost all in Ontario. Surprisingly, I also miss the wintertime. And I miss seeing a regular dose of hockey.