FOOD: SALAD BITES LOOK FOR MARKET IN CHANGING GROCERY SCENE
Entrepreneur Tosses His Snack Into the Health-Food Ring
Friday, March 27, 2015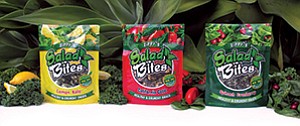 La Jolla entrepreneur Keith Mullin is an idea man.
He is the person who, a few years ago, created Gamer Grub, a snack formulated for videogame enthusiasts. He has invented toys, tools and pet care products. He holds four patents and has 11 pending.
Now the 46-year-old Mullin — who runs BioSilo Foods Inc. — is trying to get into the supermarket with a good-for-you snack called Zippy's Salad Bites. The fruit and vegetable snack had its debut earlier this month in Anaheim at the 2015 Natural Products Expo.
Think of the last bite in your salad bowl, Mullin said, those morsels in the bottom that consist of a little bit of everything. That's the inspiration for the product, though the food is not moist with dressing. Each Zippy's Salad Bite is a 1-inch-long rectangle made of brown rice and a combination of vegetables. It's made for people who are on the go and prefer to eat their snacks out of a package.
Zippy's Salad Bites come in three flavor combinations: Lemon Kale, California Cobb and Spinach Cranberry. The products have no cholesterol or trans-fats, and have zero artificial flavors or artificial ingredients. The ingredients — a combination of fruit, vegetables and seeds — come from plants that have not been genetically modified. The product is vegan, gluten-free and dairy-free.
Looking for Shelf Space
Mullin is hoping to sell the packaged snack to grocery stores, to be stocked among the high-traffic produce — the bananas and apples. He's talking to the Kroger Co. (NYSE: KR), Wal-Mart Stores Inc. (NYSE: WMT) and Costco Wholesale Corp. (Nasdaq: COST).
He's trying to latch on to the trend of healthful eating that is propelling retailers such as Whole Foods Market Inc. (Nasdaq: WFM).
The grocery market is changing too fast for the big food companies to keep up, Mullin said, so the big companies buy smaller companies. For example, General Mills Inc. (NYSE: GIS) spent $820 million in October to buy Berkeley-based Annie's Homegrown Inc., a maker of pasta and other natural and organic food products for children. Earlier this year, The Hershey Co. (NYSE: HSY) agreed to buy beef jerky maker Krave Pure Foods, noting that the meat snacks category was growing at double-digit speed.
Raising a Cash Crop
Mullin said he has eight angel investors and $100,000 in bridge funding. He hopes to raise a total of $800,000 and follow that with a Series A round.
The longtime La Jolla resident said his angel investors include figures associated with Dimensional Fund Advisors, General Foods and the former Mobil Corp.
Zippy was actually Mullin's nickname at La Jolla High School. He said he picked it up while working at San Diego Diver's Supply & Ski Chalet, when it was located on La Jolla Boulevard.
The Zippy's product features a new way to bind vegetable pieces together, Mullin said. The low-sugar binder creates a snack that is not sticky, and one that is savory rather than sweet. He declined to say exactly where Salad Bites are made, only that the plant is in Southern California.
Gamer Grub was not quite as healthful as Zippy's. It was meant to be a fortifying snack for enthusiasts in the middle of their videogame session. Mullin said his time with the product was a learning experience.
Gamer Grub attracted attention at a Tech Coast Angels Quick Pitch event in the fall of 2011. At the time, he showed off four flavors: pizza, peanut butter and jelly, wasabi and chocolate. Mullin said he put the product in Best Buy Co. Inc. (NYSE: BBY) stores, but found that the average customer didn't visit the store often enough to sustain a snack brand. GameStop Corp. (NYSE: GME) would have been the logical place to sell Gamer Grub, but Mullin said the timing was wrong and the window of opportunity closed.
Mullin has also worked in real estate development in San Diego County. These days his inventions keep him busy full time. His BioSilo Foods business also has a couple of unique methods to trick dogs into taking their medicine while having fun.
Mullin said that Zippy's Salad Bites got good reviews at the Anaheim expo, and that one young attendee left a memorable impression. Six words out of his mouth — "Mom, I just ate my salad!" — told Mullin that his product had potential.
BIOSILO FOODS INC.
CEO: Keith Mullin
Revenue: Undisclosed
No. of local employees: One
Investors: Eight angel investors
Headquarters: La Jolla
Year founded: 2009
What makes the company innovative: BioSilo is going to market with a natural, vegetable-based snack option that it is marketing under the name Zippy's Salad Bites