RESOURCES: LEADERS PUSH BLUE-TECH PLANS AS REGION'S NEXT CLUSTER
Betting on Blue
Friday, March 27, 2015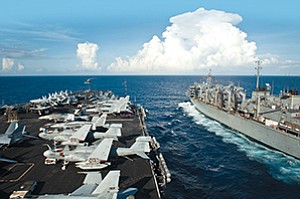 A proposal to create a regional "blue-tech" incubator with a related "center of excellence" that would support early-stage companies, cutting-edge research and development of water-oriented technologies has won the backing of city and council officials.
The San Diego officials who developed the idea — Mayor Kevin Faulconer and county Supervisor Greg Cox — say the goal is to use one of the region's biggest assets, the Pacific Ocean, to establish the next big industry cluster for generating jobs and other economic benefits.
A joint resolution laying out a general vision was approved by the San Diego City Council and the county Board of Supervisors, and the Port of San Diego's Board of Port Commissioners is expected to review and approve a similar measure in April.
Costs and locations for facilities have yet to be decided, but the government efforts stem from prior research commissioned by regional economic advocacy groups, including the nonprofit Maritime Alliance. That coalition has long championed more effective economic harnessing of several industries already represented in the region's "blue economy," ranging from aquaculture and marine recreation, to shipbuilding, oceanic research and desalination technologies.
The local maritime economy includes 1,400 companies that employ more than 45,000 while generating $14 billion in annual revenue, according to a 2012 study by research firm ERISS Corp. The study was commissioned by the Maritime Alliance, San Diego Workforce Partnership and San Diego Regional Economic Development Corp.
Maritime Alliance President Michael B. Jones said a water-adjacent incubator could support early-stage companies involved in water-related technologies, along the lines of existing incubators in the region geared to life science, wireless and other high-tech firms. Companies could get access to assistance with funding and grant-writing, research help from local universities, and guidance on intellectual property and other legal matters.
A related but separate "center of excellence" would allow more mature companies to interact with other private-sector firms and academic experts to advance water industry practices and technologies, similar to research institutes serving health care and other science industries.
With drought-related water shortages, climate change and clean technology already seeing their profiles rise as national issues, Jones said San Diego is well positioned geographically and otherwise to serve as a hub for water-centric research and technological advances. But he acknowledged there is still much work ahead to put the institutions in place that would specifically bolster the blue economy. "This process is just getting started," he said.
Finding the Right Site
Kristin Tillquist, director of state government affairs and innovation policy for Mayor Faulconer, said the next steps will involve research by city, county and port staffs, which will examine potential incubator and research support sites and present alternatives to the government bodies for consideration. No timetable has been established and there is currently no official short list of locations.
"You will likely need close access to the water, but where exactly you locate is going to depend on what you want to include in the facility," Tillquist said.
County Supervisor Cox said he's optimistic that staff will have a list of potential locations for officials to review before year's end. While theoretically such institutions could be placed anywhere in the region, the most likely sites will be adjacent to San Diego Bay.
"You could have a support system locally like you already have for the biotechs and the wireless companies," Cox said.
He said supervisors have been in informal contact with U.S. Sen. Dianne Feinstein on the local region's blue-tech efforts, and Cox himself supports proposed state legislation that would allow communities to establish permanent open-air fish markets not tied to restaurants — similar to a temporary and well-attended market recently opened on the downtown San Diego waterfront, which has helped to bolster the local fishing economy.
Restoring Fisheries
The government blue-tech resolutions come as state and federal officials are reviewing plans for an environmentally sustainable fish farm being developed off the San Diego coast by a local entity known as Rose Canyon Fisheries. Permits were filed in October by San Diego-based Hubbs-SeaWorld Research Institute, a nonprofit that currently operates two local fish hatcheries, and private equity firm Cuna del Mar LP.
The fish farm would be built in phases over the next three years at an off-shore site about 4.5 miles west of Mission Beach, at a cost of around $50 million, and would raise about 5,000 tons of fish annually at full operating capacity, including yellowtail jack, white seabass and striped bass.
Hubbs institute President and CEO Don Kent said the facility would be the only one of its kind in the continental U.S., joining two similar fish farms off the Hawaii coast, and offer a sustainable way for San Diego to at least partially restore what was once among the world's largest fishing economies.
Currently, the U.S. imports about 91 percent of seafood consumed domestically — worth $14 billion annually — and fish farms are already commonplace in Asia and Europe. Kent said a stronger local fishing industry could keep those dollars in the local region, and also bolster companies that support aquaculture, including makers of underwater robotics, water filtration systems and technology that regulates water flow and temperature.
"I think we can be a model for how this can be done on a nationwide basis," Kent said. "These are jobs that can be created locally."
Jones said blue economy jobs have been steadily growing and generally have not been greatly impacted by recent ups and downs in the overall U.S. economy. There is potential to create a variety of well-paying local blue- and white-collar jobs, in addition to products and services that can be exported to other regions.
Following up on the 2012 research, ERISS Corp. and the Maritime Alliance are now working with the National Oceanic and Atmospheric Administration on a first-of-its kind nationwide study to determine the extent of U.S. private-sector activity in support of ocean measurement, observation and forecasting.
Jones said the goal is to find ways to use ocean measurement and forecasting technologies to deliver usable business information to the private sector, similar to the way that weather and energy-related information is used by some industries to conduct business and develop products and services.