Ramona Getting State's First Drive-through Dunkin'-Baskin Eatery
Thursday, March 26, 2015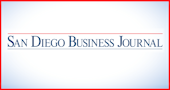 Massachusetts-based Dunkin' Brands Group Inc. has an April 7 opening planned for its new restaurant in Ramona, which officials said will be California's first drive-through location selling Dunkin' Donuts and Baskin-Robbins ice cream.
The combination restaurant at 1410 Main St. will be operated by regional franchisee SAWS LLC, led by Mike Stout. The franchisee plans to develop several additional stand-alone Dunkin' Donuts restaurants in San Diego County.
The Ramona restaurant will sell coffee and other baked goods, in addition to donuts and ice cream.
Dunkin' Donuts was started in 1950 and currently has more than 11,300 restaurants in 36 countries, including locations in downtown San Diego and Marine Corps Base Camp Pendleton near Oceanside.
Dunkin' Donuts and Baskin Robbins are both owned by Dunkin' Brands Group (Nasdaq: DNKN), headquartered in Canton, Mass.