No Blackouts for Undersold Chargers Games in 2015
Monday, March 23, 2015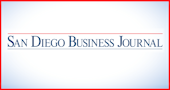 It's official: every San Diego Chargers game in the 2015 season will be televised.
The National Football League suspended its policy of blacking out poorly selling games for the upcoming season, according to a blog post on the league's website March 23.
The policy prohibits games from being shown in a local television market when a certain amount of tickets are left unsold.
The league will re-evaluate the rule after the 2015 season comes to an end, according to blogger Kevin Patra of Inside the NFL.
A Federal Communications Commission decision in September limited the NFL's ability to black out games, though the league had the most leverage with cable and satellite operators.
Chargers games have been blacked out in recent seasons, but blackouts have been rare in the last two: No games were blacked out in 2014, and one was blacked out in 2013, according to team media representatives.
That game was one of two blackouts in 2013, according to Patra's blog.
The blackout policy, dating from the 1970s, called for not broadcasting a game if it wasn't sold out 72 hours before kickoff, and was meant to boost ticket sales.