Batu Biologics Inc. Publishes Pre-Clinical Data on Therapeutic Vaccine
Sunday, March 22, 2015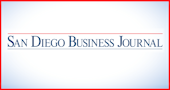 San Diego-based Batu Biologics Inc. announced the publication of pre-clinical data for its flagship immunotherapeutic product, ValloVax in the Journal of Translational Medicine.
ValloVax is a therapeutic vaccine that stimulates an immune response against the tumor vasculature for solid tumors.
Batu Biologics has recently filed an Investigational New Drug Application (IND) with the FDA seeking clinical approval to start a Phase I study for Non-Small Cell Lung Cancer.
Co-authors and collaborators for the publication include Dr. Amit Patel, director of clinical regenerative medicine and tissue engineering at the University of Utah, Dr. Santosh Kesari, director of neuro-oncology at the UC San Diego Moores Cancer Center, and Dr. Wei-ping Min, professor, department of immunology, University of Western Ontario.
"Moving forward, the next milestone is securing clearance to initiate our Phase I dose-escalation study at the University of Utah," said Samuel Wagner, president and CEO of Batu Biologics. "We expect to complete the additional IND-enabling experiments by the end of the second quarter of 2015, with the plan of securing IND clearance shortly thereafter."