DEVELOPMENT: POLITICS MIGHT ALIGN WITH NEARBY PROJECTS
Why Mission Valley Stadium Site Looks Better 12 Years Later
Friday, March 20, 2015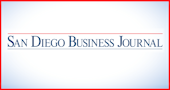 Two members of the Citizens' Stadium Advisory Group, each of whom is an expert on land-use or construction matters, say they're confident that Mission Valley will be the place that ultimately keeps the San Diego Chargers in town if the financing is right.
That's despite prior city administrations' rejection of the team's own mixed-use proposals to build on the current Qualcomm Stadium site, proposals put forward 12 years ago.
"I think the stars and the politics are aligned right now like they haven't been before," said current task force member
Douglas Barnhart, chairman of Barnhart-Reese Construction Inc. in San Diego. "Nobody's saying no at this point, and even those who are reluctant are saying maybe."
The mayoral-appointed task force recently concluded that the current stadium site would be the most feasible in terms of location, potentially saving $250 million in costs that would otherwise go toward purchasing land and relocating a city bus yard in downtown San Diego. The panel's next task is formalizing a financing plan – likely in late May – for what could be a $1.2 billion stadium project.
Task force member Mary Lydon, executive director of the Urban Land Institute's San Diego/Tijuana chapter, said a key feature gaining momentum in recent discussions is converting a portion of the 166-acre, city-owned stadium site into a green park area, capitalizing on access to the adjacent San Diego River.
The city has long been discussing ways to develop a central park area for Mission Valley, with bicycle and pedestrian trails, as part of long-term community planning. The current push to put the stadium in Mission Valley is now supported by groups including the San Diego River Park Foundation.
A portion of the stadium property has extensive flood-plain issues that would need to be addressed in any river-adjacent construction. But as part of a smart-growth, walkable, mixed-use development with existing on-site access to the San Diego Trolley, Lydon said a stadium campus on the current site could become a "crown jewel" feature for the city.
"It wouldn't just be an amenity for this community," Lydon said. "It could be an attraction for the whole region."
Under a prior task force, the Chargers in early 2003 put forth options that included building a stadium on the current site, next-door to an "urban village" that would take up much of what is now the stadium's parking lot. The 66-acre village would have included residential, retail, office and hotel elements – with associated common areas and surface and garage parking – that could help raise revenue to finance stadium construction.
However, that and similar concepts were not supported by prior city administrations as well as Mission Valley residents, and the team subsequently switched its stadium focus to downtown's East Village. As the Chargers await details on financing, the current task force contends that government and public sentiment has shifted back in favor of Mission Valley.
Following a recent press conference where the nine-member task force announced its location choice – not attended by Chargers executives – team special counsel Mark Fabiani said he would have nothing to add until he sees details of a financing plan for the Mission Valley site. He also noted that things have "changed dramatically" in the past 12 years, in the worlds of business, real estate development and stadium construction.
Barnhart said he is encouraged by recent published comments by Chargers President Dean Spanos indicating that team owners are open to considering financially feasible options to remain in San Diego – even as the team seriously explores sharing costs with the Oakland Raiders to build a $1.7 billion stadium proposed in the Los Angeles suburb of Carson.
"Dean Spanos has his head on right," Barnhart said. "I think he understands that what you would do in San Diego is different from what you might do in Carson."
A 40-year veteran of the construction industry, Barnhart said that just before he was appointed by Mayor Kevin Faulconer to the task force in January, he was convinced that downtown was the best place to put a new stadium, possibly as part of a multi-purpose structure with convention space. But after weighing data from local developers and other input gathered by the task force – and considering the design challenges of building a structure that would suit the needs of both the Chargers and convention organizers – he was swayed to support Mission Valley.
In addition to retail and other commercial elements, other possibilities being floated for boosting community use and revenue at the site include relocating a local sports-related attraction, such as the Hall of Champions, a museum and event space currently located at Balboa Park.
But what ultimately goes on the Qualcomm Stadium site, Barnhart said, will need to be discussed with others including city planners and the Mission Valley community planning group.
According to the city's Planning Department, officials anticipate kicking off a long-delayed updating of the Mission Valley community plan this spring. That community plan is not expected to be an obstacle for the stadium.
The Mission Valley plan was drafted in 1984 and last amended in 2013. In addition to stadium plans, the updated blueprint for Mission Valley will ultimately need to incorporate several new developments in the works at sites west of the stadium, along Friars Road and Interstate 8.
Those include Manchester Financial Group's planned $200 million mixed-use project on the campus of U-T San Diego; an extensive redevelopment of Town and Country Resort & Conference Center by Lowe Enterprises; and Related California's planned renovation of the 200-acre Riverwalk Golf Club into a mixed-use residential community.