BEVERAGE: ENDORSERS, HERBS AND NAME TARGET MILLENNIALS
Whiskey Hits Market With Right Hooks
Friday, March 20, 2015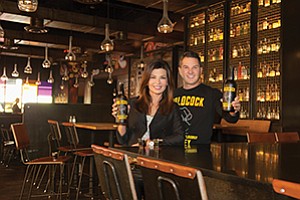 Over the past decade, San Diego has become known far and wide for its craft beer industry.
Now, a Rancho Bernardo husband-and-wife team wants to add something a little stronger to the mix.
In 2013, the team, Sarah and Rick Zeiler, began selling their own spirited creation with a controversial name, Coldcock American Herbal Flavored Whiskey.
The two are confident their herb-infused, 70-proof Kentucky bourbon, sold in black bottles with a clenched fist on the label, can gain a foothold in the very competitive market for whiskey.
The wind is at their back.
The flavored segment, one of the fastest-growing for distilled spirits, accounting for 12 percent of the $3 billion in U.S. sales, is open to new labels.
"It's whiskey's time," said Sarah Zeiler, who acts as the spokeswoman for Zeiler Spirits LLC, the company behind the label. "Whiskey has become what vodka was five years ago."
So far, they've penetrated 22 markets nationwide, selling 13,000 cases in their first year of business. They're on target to move 25,000 cases in 2015.
That success is largely due to the fact that the Zeilers have experience in a market dominated by such powerhouse names as Brown-Forman, Seagram and Suntory.
They worked as national brand directors for the Sidney Frank Importing Co. in New York.
Frank, who died in 2006, was the legendary marketing genius behind the success of Grey Goose Vodka. He sold the brand to Bacardi in 2004 for a whopping $2 billion at the height of the vodka craze.
The Zeilers helped put Jägermeister, a so-called "digestif" concocted in Germany with 56 herbs and spices, on the map.
The liqueur, though very much an acquired taste, is today a top 10 brand globally.
While at Frank, the couple split their time between New York and San Diego, enlisting the support of athletes, entertainers, musicians — many connected to rock bands, and action sports figures — to promote the brand.
When they left, they shifted to San Diego full time, in large part because the entertainment and action sports industries are centered in the region.
Though San Diego has become a hotbed for craft beers, "it's not the easiest place to launch a brand," she said. "It's a top market, but expensive to penetrate because our target demographic is so spread out.
"Most of our energy — our sales and marketing effort — is focused on Southern California. If we can make it here, we can make it anywhere."
As they were about to launch in 2013, they started selling shares to outside investors.
Their strategy is to get help promoting the brand among customers, mainly millennials, young adults in their 20s and 30s.
The Zeilers have raised $3.5 million so far from 100 investors, with a goal of reaching $5 million by year's end.
Fifteen percent of profits from sales will be put aside for profit-sharing, projected to start in 2017.
Growing Popularity
They purchase their whiskey in bulk from a distiller in Kentucky, and then truck it to a facility in Florida where the herbs — including green and white teas, fennels, gingko and hibiscus — are added and the product bottled and shipped.
Rick came up with the idea of flavoring whiskey with herbs, and the company employed a chemist to develop the best mix.
Most whiskeys use sugar to boost taste, Sarah Zeiler said. So, she said, Rick decided to leave out the sugar.
"What we found is that it didn't really need any extra sugar," Sarah Zeiler said.
It's meant to be drunk without mixers, or ice, from a shot glass.
The Zeilers personally promote the product at retail outlets as well as at festivals and concerts.
"The biggest part of the job is getting a customer to see the bottle, and then ask for it," she said. "It takes a lot of time, work and investment."
Name Packs a Marketing Punch
And the name Coldcock? Rick Zeiler, the company CEO, came up with the name in a moment of post-midnight inspiration.
"Some love it, some hate it, but they never forget it," Sarah Zeiler said.
Retail outlets rave about Coldcock because of its unusually smooth sensation.
Paul Motenko, founder and CEO for Stacked, a regional restaurant group with a location at the Fashion Valley mall, first learned about the brand while at a radio station doing a promotion for his eateries.
Another guest in the studio who was promoting the whiskey offered a taste.
"I took one sip of it, and just fell in love with the product," he said. "I had never tasted anything like that before."
He now features Coldcock, including at his restaurant in Mission Valley.