San Diego's Wealthiest #3: Gary and Mary West
Friday, March 20, 2015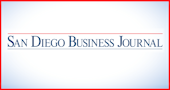 Gary West was born in Council Bluffs and grew up in Harlan, Iowa, where his parents owned a bowling alley. He moved to Omaha at 19, attended Dana College in Blair, Neb., and served in the Army during the Vietnam War. In 1968, he married Mary, who grew up in Miami and moved to Omaha during high school.
Neither earned a college degree, but they are considered pioneers in telemarketing for their work building WATS Marketing of America, which was sold in 1980 to First Data Resources, and later West Corp. The business now employs over 35,000 globally.
The Wests received $1.45 billion for their stake in West Corp. when it went private in 2006, according to filings with the Securities and Exchange Commission.
Gary and Mary West have developed multiple for-profit and nonprofit organizations, including West Development, a hospitality operating company representing Carlsbad-based West Inn & Suites, Bistro West, and West Steak and Seafood; West Partners, a private equity and real estate investment firm and WESTliving, a portfolio company of West Partners formed in 2009 to develop, acquire and manage senior housing communities, expanding Gary & Mary's long-term vision to support older adults.
Their philanthropic concerns are funded by the Carlsbad-based Gary & Mary West Foundation, which was founded in 2006 and is focused on lowering the cost of health care, improving senior care and deploying service dogs. Locally, the foundation supports the West Health Institute in Torrey Pines and the Serving Seniors center in downtown San Diego, among many others.