EDUCATION: UCSD TAPS A TOP TALENT TO FORM ITS DESIGN LAB
Bold Fusion
Friday, March 20, 2015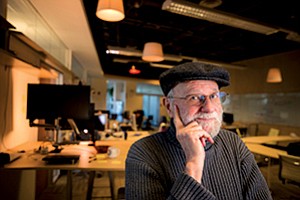 Don Norman — electrical engineer, psychologist and design guru for Apple Inc., Hewlett-Packard Co. and other businesses — has been coaxed out of retirement to start the University of California, San Diego design lab.
He's gunning to make the La Jolla campus into a serious rival to the Massachusetts Institute of Technology and Stanford University.
"I want this to be an important place in the world," Norman said, seated in his new space at Atkinson Hall.
"Look, in the United States there are two places people come to visit: the MIT Media Lab and the Stanford d. school, Norman said. "I want there to be three. That means what we must do must be really significant."
Don Norman is a slight man who wears a distinctive cap, a bushy white beard and an amused expression. He combines high-powered curriculum vitae from the academic and business worlds with the common person's approach to life. (In a recent short essay, he critiqued a headset from a major consumer electronics company with a frustration reminiscent of Andy Rooney on CBS TV's "60 Minutes.")
So what are his plans in San Diego?
"People ask me what device I'm going to design, and I'm saying, 'No, we're bigger than that. We're going to enable thousands of devices to be designed, or services, or new businesses, or new business ideas and concepts," Norman said.
Staying Power
He lamented the fact that companies such as camera-maker GoPro felt they had to leave San Diego to grow, and spoke of creating a better environment for entrepreneurship in San Diego, ideally with more venture capital sources and definitely with a stronger design community.
Norman spoke of bringing San Diego's design community together. His projects include establishing a partnership with the Domus Academy School of Design at downtown San Diego's NewSchool of Architecture & Design.
He and Michele Morris, associate director at the design lab, are now meeting people from all corners of San Diego's design world: specialists in industrial design, graphic design, user experience, user interface and human factors, among others.
The design lab is part of the California Institute of Telecommunications and Information Technology, which has pursued many other cutting-edge tech projects. Already, Norman said, the lab has established relationships with Qualcomm Inc., SAP and Nissan (which has a design center not far from campus), as well as UC San Diego's medical school.
Got Problems?
So what is good design?
Good design, Norman said, is much more than making things pretty. He asserts that good design must be human-centered, and that before a solution is proposed, the correct or underlying problem must be understood. It might take a while to figure out what the correct or underlying problem really is.
Naturally, a design must fulfill the needs of customers. If that design is a service, it has to fill the needs of the customer and employee, "because your employees are not going to give great service unless they themselves feel good," Norman said.
Design extends beyond physical objects to procedures. Norman gave the example of a nurse who has to conduct a detailed, multiple-step procedure on a medical device, but is frequently interrupted by all the other things nurses have to contend with. The equipment really should make it easy for a nurse to pick up where she left off, Norman said.
In addition to Nissan and Qualcomm (Nasdaq: QCOM), Norman has worked or consulted with scores of companies and organizations, including BMW, Panasonic, NASA and DARPA (the Defense Advanced Research Projects Agency, the Pentagon's advanced engineering arm).
He is a principal of Nielsen Norman Group in the San Francisco Bay Area, and spent part of last week on the road, speaking with software developers at SAP (NYSE: SAP) as well as people from Varian Medical Systems Inc. The latter makes X-ray and proton therapy devices.
A Chancellor on the Doorstep
Norman said that he has retired twice, from the University of California and Northwestern University. One year ago, Pradeep Khosla — now in his third year as UC San Diego chancellor — came to Norman's home in Palo Alto with the invitation to return to the San Diego campus and start the lab.
"It had to be two things: it had to be important and it had to be exciting," Norman recalled. "I did not want a job, but I couldn't resist a challenge."
So here he sits, on the first floor of a 10-year-old building at UC San Diego's engineering school. White boards show copious thoughts and erasures, and things seem a little improvised. A paper sign welcomes people to the lab.
Norman received his doctorate in mathematical psychology from the University of Pennsylvania in 1962. He was chairman of UC San Diego's psychology department in the mid-1970s. He just produced a major update of his 1986 work, "The Design of Everyday Things," and estimated that under Moore's Law, computers today are 5,000 times faster than they were when he first wrote the book.
His other books include "The Invisible Computer," "The Design of Future Things," "Turn Signals Are the Facial Expressions of Automobiles" and "Things That Make Us Smart: Defending Human Attributes in the Age of the Machine."
His critiques are both witty and thoughtful.
"The design team has multiple constraints and challenges, a major one being what I call 'Norman's law,'" he wrote in "The Design of Everyday Things." "The day the product team is established, it is behind schedule and over its budget."
As for the offending headset he recently reviewed? Norman's complaint centered on the fact that the headset was perfectly symmetrical with several buttons on either side. The trouble was that the left buttons had different functions than the right buttons, and nothing distinguished left from right.
Norman solved the problem in an ultra-low-tech way: He put a red sticky-dot on one side.
The critique also extended to the device's instructions, which were in "incredibly tiny" gray type on a black background. It seemed the graphic designer wanted to make an artistic statement, Norman said, when the prime consideration should have been to get information across to the reader.
Designers could have offered a lot to that consumer electronics firm.
The good news is that they have plenty to offer to San Diego business leaders.
"I don't think that the companies here understand what design can do for them," Norman said.