County Employees Retirement Association CEO Resigns
Thursday, March 19, 2015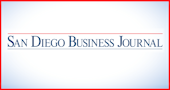 Brian White has tendered his resignation as CEO of the Board of Retirement of the San Diego County Employees Retirement Association, effective March 30, the organization announced. White has served as the association's CEO for 18 years.
The board and White have "amicably agreed" on terms of the departure, though further details related to the resignation were not disclosed in an association statement.
Officials said David Wescoe, president of Efficient Market Advisors, will assume the CEO duties on an interim basis pending White's replacement. Wescoe is a former CEO of the San Diego City Employees' Retirement System who was retained by the county association in February to serve as a management consultant.
E.F. "Skip" Murphy, the county association's board chairman, said the organization grew its fund assets from approximately $3 billion to a record $10.5 billion during White's tenure, as its membership grew from 26,000 to nearly 40,000.
San Diego County Employees Retirement Association is an independent organization established by county employees retirement law in 1937. It administers retirement and associated benefits for eligible employees of the County of San Diego and other participating employers, and also oversees the investing and management of retirement funds.