Novatel's COO Taking 30 Percent of Base Salary in Stock
Wednesday, March 18, 2015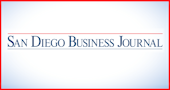 Novatel Wireless' chief operating officer has started taking 30 percent of his 2015 base salary in stock, the company said on March 18. With the decision, COO Slim Souissi is taking the same compensation mix as CEO Alex Mashinsky and CFO Michael Newman, who both elected to take 30 percent of their salaries in stock last year.
By aligning their personal compensation to the broader objective of increasing shareholder value, the executives are expressing confidence in the company, said Robert Pons, a member of the Novatel Wireless (Nasdaq: MIFI) board.
Novatel Wireless is working to turn itself around after activist shareholders forced changes to its board and executive suite last year. The Sorrento Mesa company produces the MiFi intelligent mobile hotspot as well as electronics for the Internet of Things.