Community Leaders Invited to School's Women's Symposium
Wednesday, March 18, 2015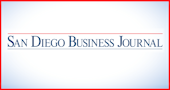 The Academy of Our Lady of Peace, San Diego, a Catholic college-preparatory girls' high school, will host its inaugural Women's Symposium, the school announced.
The symposium, at Academy of Our Lady of Peace on March 27 from 9 a.m. to 12:45 p.m., will feature prominent women leaders on multigenerational panels as they share insights with the future leaders and innovators of the world. The panel topics are business and entrepreneurship, public policy, STEM learning, creative industry, and innovation in education. The topics aim to help the next generation of women leaders manage the many aspects of being a woman in the workforce, OLP said.
"We're reimagining the traditional career day," said Head of School Lauren Lek. "Programs like this serve our mission of helping generations of young leaders become all of which woman is capable."
Limited VIP tickets are available at no cost. OLP said it is inviting leaders in the community to join it for this day of empowerment and learning.
Register online at http://bit.ly/1zMlmQE.