RF Industries Reports Q1 Results
Tuesday, March 17, 2015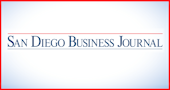 RF Industries Ltd. reported sales of $6.9 million for the first quarter ended Jan. 31, 2015, compared with sales of $5.9 million for the like quarter of the previous year.
The San Diego-based maker and distributor of connectors and cable assemblies for the wireless industry said it had net income was $65,000, or $0.01 per diluted share for the first quarter, compared with net income $265,000, or $0.03 per diluted share, in the like quarter of the prior year.
The company said first quarter 2015 results include the impact of RF's acquisition of Comnet Telecom Supply Inc. Comnet's sales were $2.2 million during the first quarter.
RF reported gross profit for the first quarter was $2.5 million, or 36 percent of sales, compared with gross profit of $2.6 million, or 44 percent of sales in the like quarter of the previous year.
At its March 11, 2015 meeting, the company's board of directors declared a quarterly cash dividend of $0.07 per common share, payable April 15, 2015 to shareholders of record on March 31, 2015, RF said.
For a more detailed report, click here.