Coco's, Carrows Restaurant Operator Getting New Owner
Tuesday, March 17, 2015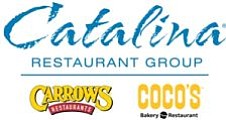 Carlsbad-based Catalina Restaurant Group Inc., which operates 149 Coco's Bakery and Carrows restaurants in three states, has been sold to an affiliate of Texas-headquartered Food Management Partners (FMP) for an undisclosed price.
The deal was announced by Catalina's current owner, Tokyo-based Zensho Holdings Co. Ltd., and is expected to close on March 31. Zensho is Japan's largest operator of restaurant chains both domestically and abroad, with more than 4,000 outlets.
"After nearly a decade shepherding the Coco's and Carrows brands, we are pleased to have found the right owner to begin the next chapter in the CRG story," said Zensho America President Yasunori Hiraguchi in a statement.
FMP, based in San Antonio, was formed in 1999 and is a multi-concept operator of franchised and independent restaurant brands. It is among the largest Buffalo Wild Wings franchisees, and also operates brands including Zio's Italian Kitchen, Don Pablo's and Furr's Fresh Buffet.
FMP co-founder and Manager Jason Kemp said the Coco's and Carrows brands are well-established and fit with the company's focus on "identifying brands with strong customer loyalty and an irreplaceable legacy."
FMP currently operates 118 restaurants in 22 states and was a founding franchisee of Denver-based Smashburger.