Excel Trust Sells Arizona Office Property for $65 Million
Sunday, March 15, 2015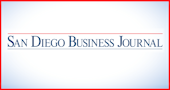 San Diego-based Excel Trust Inc. has sold the two-building Promenade Corporate Center office property in Scottsdale, Ariz., for $65 million, according to Arizona public data.
The buyers were Lincoln Property Co. and Goldman Sachs, according to brokerage company DTZ, which represented the seller. Brokers said Excel Trust will remain the owner of the adjacent Promenade retail center, a 715,719-square-foot property with more than 70 tenants, including Nordstrom Rack and Lowe's.
The 256,157-square-foot Promenade Corporate Center was 80 percent occupied at the time of sale, with tenants including Healthcare Trust of America, Meridian Bank and Regus Corp.
Excel Trust was represented in the office transaction by Jeff Wentworth and Sean Spellman of DTZ's Phoenix office, and Rick Reeder and Brad Tecca of the company's San Diego office.
Headquartered in Rancho Bernardo, Excel Trust (NYSE: EXL) is a real estate investment trust that primarily owns retail and related commercial properties nationwide.