San Diego Airport Exploring European, Central American Routes
Friday, March 13, 2015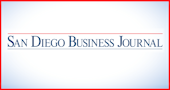 San Diego airport leaders continue their work to establish new service to international destinations.
Thella Bowens, president and CEO of the San Diego County Regional Airport Authority, told an aviation group on March 13 that her office continues to work on new European routes, provided that they don't compete with British Airways service to London.
Bowens said the London service is very successful. The airline flies with an 86.5 percent load and never puts a discount on seats.
Japan Airlines service to Tokyo is not performing as well as British Airways. Bowens described it as "profitable, but not very profitable." Emirates, which flies between Los Angeles and Tokyo, offers a competing flight, Bowens said, noting Emirates' reputation for luxury travel.
Bowens' office is still interested in establishing service to Central America and South America. Bowens mentioned San Salvador and Panama in particular.
China is another possible destination.
Bowens made her remarks before the 2015 Air & Space Law Symposium at California Western School of Law in downtown San Diego.