GREEN: STATE POLICIES POWER CLEAN-TECH SECTOR GAINS
Positive Energy
Friday, March 13, 2015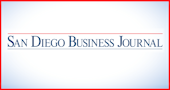 California performed extraordinarily well in the clean energy industry last year, nearly tripling the number of jobs created in the fourth quarter of 2014 compared to the same period of the previous year, according to a recent economic report.
This is in stark contrast to the industry as a whole, which took a major blow last year due to ongoing uncertainty about environmental public policy.
The quarterly report was published by a business group called Environmental Entrepreneurs, or E2, a group that tracks clean energy and clean transportation jobs and projects in the U.S.
E2 reported that California created 3,276 clean energy jobs in the fourth quarter of 2014, up from 1,112 jobs in the same period last year.
Policy Supporting Growth
Jason Anderson, president and CEO of the industry trade group Cleantech San Diego, said the region's competiveness stems from a suite of policies and programs that bolstered the clean energy industry, including the California Global Warming Solutions Act (Assembly Bill 32).
AB 32 was signed into law in 2006 by then Gov. Arnold Schwarzenegger. The law sought to fight climate change through a program that would reduce greenhouse gas emissions from virtually all sources statewide. The act required the California Air Resources Board to develop regulations and market mechanisms that would cut the state's emissions by 25 percent by 2020.
The state also embraced an ambitious Renewables Portfolio Standard and numerous municipal financing programs to advance energy efficiency, solar, biofuel and wind generation.
"With the regulatory framework that we have in California, we've created a market certainty here in the state which is why our sector continues to grow," Anderson said. "Other states and the federal government haven't passed legislation or policy to the level that California has."
San Diego County
E2 tracked more than 4,400 new jobs from California's solar sector in 2014, as residential installers opened new offices and utilities announced large-scale projects in the state.
Anderson said the San Diego metro area is a solar energy hub, leading the nation in solar installations per capita.
"The installation of solar rooftops is likely our biggest job creator," Anderson said. "There are 54,000 solar workers in California and close to 11,570 in Southern California alone."
The county is home to a number of solar companies, including Sullivan Solar Power, Baker Electric Solar and Borrego Solar Systems Inc.
One of the nation's largest solar projects is housed at the University of California, San Diego, where a massive micro grid powers the campus of 45,000 people and 450 buildings. The system generates 92 percent of the campus's electricity and saves the university about $850,000 a month in savings compared with buying retail energy, said Byron Washom, UC San Diego's director of strategic energy initiatives.
Outside of solar, San Diego is steeped in clean energy projects ranging from sustainability initiatives at the Port of San Diego and San Diego International Airport to city and county "smart city" programs meant to cut down on greenhouse gas emissions and increase energy efficiency.
San Diego is home to powerhouse bioreneweables companies like Sapphire Energy, Cellana and Synthetic Genomics, and the algae industry generated 1,020 jobs in the San Diego region in 2013, according to Sandag.
Clean Energy Industry
News for the rest of the country's clean energy industry is less inspiring. Only 47,000 clean energy jobs at 170 projects were announced nationally in 2014, down from 78,000 jobs at 260 projects in 2013, according to E2's report.
"Despite the continued growth, ongoing uncertainty over public policy at both the federal and state levels, coupled with the expiration of beneficial tax policies, continued to cast a cloud over clean energy industries, resulting in fewer announcements than in the past," the E2 report said.
Anderson said San Diego's local industry can stay competitive by paying attention to state-level policy.
"We have to continue to advocate for policies that help drive the market," Anderson said. "It's important for the business community to be aware of what's happening at the state level in Sacramento, and how it impacts the potential growth of this industry."