REAL ESTATE: HEALTH CARE, OTHER SECTORS SEEK OUT SPACE
North County Clusters Spur Property Demand
Friday, March 13, 2015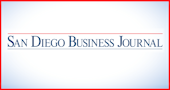 Growth in North County's key "cluster" industries — including health care, biotech, clean-tech and sports-related lifestyle companies — is creating jobs, and also raising demand for commercial real estate space.
Case in point: The coastal area from Del Mar north to Carlsbad now sports San Diego County's highest average asking rents for medical office space, according to new data from the brokerage company JLL. At the end of 2014, the average asking rent in coastal North County was $3.41 per square foot, well above the countywide average of $2.54 per square foot, and the coastal vacancy rate was just 5.2 percent.
Similarly, the Interstate 15 corridor's price of $2.78 per square foot was also above the county average, and the vacancy rate in both submarkets was below the county's 9.7 percent.
JLL Managing Director Paul Braun said the trend stems from a combination of factors, including increased demand for medical services spurred by the federal Affordable Care Act, and moves by health providers to expand services to a growing North County residential population.
Medical groups and longtime North County hospital operators — such as Tri-City Medical Center and Palomar Pomerado Health — have been expanding services away from main hospital campuses. Meanwhile, Braun said, providers traditionally strong in the city of San Diego have recently been expanding their North County offerings, including Scripps Health in the Encinitas area and Kaiser Permanente in the Oceanside market.
Land Demand
Looking forward, said JLL Vice President Chris Ross, North County generally has more land available for construction of new medical offices than central San Diego.
At a recent economic summit in Carlsbad presented by San Diego North Economic Development Council, other experts said North County has outpaced the rest of San Diego County and the nation when it comes to the growth rate for higher-skill jobs during the past five years. That generally means higher office, industrial and laboratory space requirements for the industries employing those workers and expanding their local operations.
BW Research President Josh Williams said North County's general office inventory has grown by 5 percent while average rents have increased 10 percent over the past half-decade. During the same period, the county overall saw inventory drop 2 percent while rents rose 5 percent.
He and other experts said North County demand is being fueled by industry clusters that are growing in stature as they create new jobs. However, the region faces challenges for maintaining growth, including educating a workforce better trained in science, technology, engineering and math — the skills required to succeed in industries with the higher paying jobs.
Impact on Industrial Space
There is also the issue of building new and affordable housing for a growing population whose demands are already far outstripping the region's available supply. MarketPointe Realty Advisors President and CEO Russell Valone said there is entrenched community opposition to the type of high-density configurations needed to significantly boost the region's stock of affordable apartments and single-family homes, including the walkable communities favored by younger consumers.
Experts also said high development fees continue to raise the costs to build housing, making it difficult to price the finished products so they are affordable for new workers.
Another sector impacting real estate usage in North County is the burgeoning craft beer industry. North County houses about one-third of the nearly 100 craft breweries and brew pubs based in San Diego County, and brokers and economists note the industry has a significant impact on the use of retail space, and especially industrial space.
Brokerage firm Cushman & Wakefield Inc. reported that industrial vacancy in North County stood at 6.9 percent at the end of 2014, down from 9.2 percent at the close of 2013. North County saw 1.3 million square feet of positive absorption — more industrial space being occupied than vacated — during the past year, following several sluggish quarters of industrial leasing activity.
North County brewing had an overall economic impact of $272.3 million in 2013, including supporting 1,700 jobs at breweries and other beer-related businesses, according to a region-specific report issued last summer by the National University System Institute for Policy Research in San Diego.
A mid-2013 report by the brokerage firm now known as DTZ projected that beer brewers would account for nearly 5 percent of all new industrial space demand in San Diego County over the next 12 to 24 months — translating into approximately 215,000 square feet of needed space.