SECURITY: EVEN SMALL COMPANIES MUST PROTECT INFORMATION, CLIENT DATA
More Businesses Recognize Need for Cyber Liability Insurance
Friday, March 13, 2015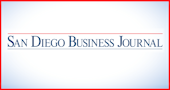 Local carriers say one of the biggest trends in property and casualty insurance is an increase in the purchase of cyber liability coverage.
Each time a costly Internet security breach is publicized, awareness of the risk to businesses grows, said Douglas D. Fyfe, vice president for the western United States at CBIZ Insurance Services Inc.
"We are seeing a much more robust interest in cyber liability," he said. "Cyber liability is a real issue for everybody. There is so much data online now. Businesses have so much information."
Jeff Egenberger, a senior commercial broker at Johnson and Wood Insurance Services in Carlsbad, said it costs about $200 per individual to notify clients about cyber security breaches. That's why having adequate coverage has become so important.
"Imagine if someone hacked into your system and got 10,000 to 15,000 names and numbers," he said. "Carriers today are offering coverages that protect you in that instance."
A February 2014 report from the Office of the Attorney General in California warned that all businesses are potential targets of cyber crime. Having a small client base no longer ensures that a company won't be targeted. The report urged all businesses to take precautions.
In addition to worrying about protecting the information they have stored on their clients, businesses are concerned about the security of the data they keep on their workers, Fyfe noted. In November, a cyber attack on Sony exposed a large amount of sensitive employee information. It included the Social Security numbers and personal information of thousands of current and past employees.
The cost of cyber security insurance coverage depends on your exposure to risk and the size of your clientele. Insurers will consider the security precautions you take when setting rates.
According to Fyfe, the cost often is much less than businesses expect. Your premium will be based in part on the size of your deductible, the amount of money you must pay out for a loss before your insurance kicks in.
"The minimum premium is probably around $3,000, and it goes up from there," he said.
Umbrella liability insurance
In addition to worrying about cyber security breaches, San Diego's small businesses are increasingly concerned about the potential for being sued, said Larry McCulla, a certified financial planner and investment advisor with Mariner Wealth Advisors. That's because society is highly litigious and becoming more so, he added.
To protect themselves, many small businesses are buying commercial "umbrella" liability insurance policies, he said. An add-on umbrella policy increases the limits of financial protection to your business from unanticipated risks. Such policies don't take effect until your company's underlying commercial liability policy is exhausted.
McCulla says he typically recommends that businesses take out coverage equal to their company's net worth.
Car Insurance Risks
Egenberger said there is growing concern among local business owners over California's low auto liability insurance requirements. Business owners worry that if an underinsured motorist causes damage to a company vehicle or injures an employee, that person's coverage won't be great enough to pay the bills.
State-mandated auto liability policy limits for individuals in California are only $15,000 for bodily injury or death to one person in an accident, $30,000 for injuries or death to multiple persons in an accident, and $5,000 for property damage. Typically, this doesn't come close to the actual costs of a serious accident, Egenberger said.
When the at-fault driver doesn't have enough coverage, the costs typically are paid by workers' compensation insurance, he added.
"I have had two employers who have had workers involved in very serious accidents and their workers' comp carriers are having to pay tremendous amounts of money, which in the long run penalizes the client," he said.
Replacement Costs
In another recent trend, Fyfe noted that carriers who insure commercial buildings are working harder to write policies that accurately reflect replacement costs if a structure is damaged or destroyed.
"How much is the replacement cost?" Fyfe asked. "If you are the buyer, you will use a lower number because it means a lower premium."
Getting an accurate number is critical because insurance companies need to be sure they are charging enough for premiums to cover the cost of potential losses. In some cases, the quest for greater accuracy may result in higher rates.