EMPLOYERS FINDING ALTERNATIVES TO TRADITIONAL EMPLOYEE BENEFITS
Innovative Insurance
Friday, March 13, 2015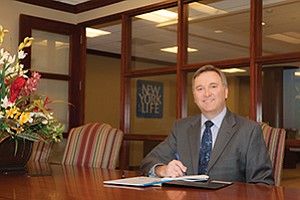 Unable to offer traditional retirement and health benefits following the recent recession, many small businesses in San Diego County are finding alternative ways to maintain the loyalty of employees.
Sometimes the focus is on retaining key employees who keep the business running smoothly, said Robert Gascho, a financial services professional at New York Life Insurance Co. in San Diego.
"Wise owners consider a plan that will offer a significant benefit to the key employees in return for staying and helping the owner accomplish their objectives," he said.
Companies sometimes offer cash bonuses to workers who agree to remain with the business for a specified time, he explained.
"The plan utilizes a retention agreement, or 'golden handcuffs,' and is merely an employment contract that guarantees an employee a significant financial benefit if they meet certain conditions of employment," he said.
In some cases, essential workers may be asked to stay on for a period following a sale to ensure the new owners have the support they need.
Gregg Landers, a growth management expert and financial coach at CBIZ, Inc., a financial and employee business services company, said the economy is improving but has yet to regain its footing.
Phantom Stock Plans
Because they are in competition with other businesses, companies often don't share their strategies for keeping workers when they can't offer traditional benefits. Landers said some businesses offer "phantom stock plans" to keep key employees on the job. The idea is to set a value on the company, then agree to pay workers a bonus based on how much the company's value has increased over time.
Typically, the payout begins when the employees leave. This incentivizes workers "not only to stay but to do things to improve the value" of the company, Landers said.
The strategy isn't common, "but in certain circumstances, it can be a real effective tool."
When companies don't have the money to offer cash benefits, they sometimes find creative ways to retain employees by improving working conditions, Landers said.
For example, companies may bring in a yoga instructor to teach classes. They may offer dry cleaning pickup services at the office. In some cases, companies have found that giving workers paid time off to work on charitable causes raises morale.
Innovative Employee Solutions, Inc. specializes in outsourced payroll and human resource administration services. Tania Fiero, vice president of human resources for the company, says getting employees behind charitable causes develops teamwork and gives workers something to be proud of. Landers agrees
"We are starting to see clients find ways to connect their people to how the company is improving the world," he said.
Implementing such quality-of-life programs in the workplace often doesn't cost companies much money, but it does take planning and careful consideration.
"It's a little like the difference between a homemade gift and a store-bought gift," Landers said. "You are taking time and thinking, 'What benefits my employees? What would make them want to get up in the morning and come to work each day?' "
Appealing to Millennials
Employers recognize that they can't fully replace health and retirement benefits by enhancing quality of life in the workplace. Even so, having a job at a company that's a great place to work is a powerful incentive to remain on the job. Job satisfaction is especially important to the 20- and 30-somethings who often are called millennials, Landers said.
"Their parents were probably much more focused on their careers, their title, and climbing that corporate ladder," he said. "A larger portion of the millennials figure, 'I'm going to be working until I'm 70 or 80 anyway, I might as well do the things I want to do.' "
Larry McCulla, a certified financial planner and investment advisor with Mariner Wealth Advisors in San Diego, said small business owners have been struggling to balance the needs of employees with their own capacity to provide benefits.
"It has been a challenging environment for small business owners as far as employee retention," he said.
In the past, some companies have structured 401 (k) retirement funds to discourage workers from leaving their job, he said. They have done this by delaying the payment of company matching funds.
In some cases, "you need to work the whole year and be employed as of Dec. 31 in order to get your money, which won't be until April 1 of the following year," he said.
Some of these companies now are making their matching 401 (k) contributions each time workers are paid, so they won't have to worry about losing money if they leave the company.
"That has been a benefit that employees really appreciate," he said.
More Health Options
Diana Twadell, a principal in the small business division of Barney & Barney Insurance Services, a division of Marsh & McLennan Agency, LLC, said some small businesses have been able to assist employees by working with carriers to offer a wider range of health coverage plans.
"Some would prefer minimal coverage and less money coming out of their paychecks," Twadell said. "Employers are empowering employees to make those choices."
Jim Morrison, president of Morrison Insurance Services, Inc. in Carlsbad, said worker benefits have begun to improve as the economy expands. As employees find more job opportunities, large and small businesses will increase benefits to compete for their services.
"We are seeing the employee market tighten up so employers are starting to do more, whether it is improving the benefits program or (offering) sign-on bonuses," Morrison said.