SOFTWARE: APP PROVIDES CONVENIENT WAY TO SPEND CURRENCY
Bitcoin Wallet Helps Users Boost Their 'Exchange Rate'
Friday, March 13, 2015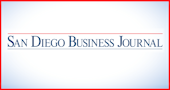 Saying that Paul Puey is upbeat about bitcoin is kind of like saying Babe Ruth is OK at baseball.
Puey, 39, is enthusiastic about the alternative, digital currency.
In early 2014, he and several partners formed Airbitz Inc., a North Park company that offers a "bitcoin wallet." The app for mobile devices lets people hold their own bitcoin. One of the wallet's hallmarks, Puey said, is ease of use.
In addition to providing the wallet, Airbitz offers a directory of merchants who accept bitcoin. That list includes Downtown Johnny Brown's near San Diego City Hall. As of March 12, a $10 hamburger at the eatery cost .034 bitcoin, as the day's exchange rate was $295.97 for a single bitcoin. A drink and a tip would increase the bill.
Bitcoin is a digital currency that may have other uses. It has seen ups and downs in the years since its introduction in 2009. Recently, there has been a notable surge in investment. Earlier this month, the Wall Street Journal reported that a San Francisco bitcoin startup called 21 Inc. received $116 million in funding, including an investment from San Diego's Qualcomm Inc. The same article said 21 Inc. will have big announcements soon.
Plug and Play
Airbitz has seen no such windfall of funding. Puey and four co-founders put up the money to start the business and were joined by an undisclosed angel investor. The business got an early vote of confidence from the Plug and Play San Diego accelerator, which sent Puey and three of his partners to Silicon Valley for 10 weeks.
Silicon Valley offers "an overwhelming number of events" in the bitcoin space, Puey said, adding that one of his goals in Silicon Valley is to find more funding. He said he's not planning to stay permanently, since San Diego is home.
In addition to providing schooling at its Sunnyvale incubator, Plug and Play takes a 5 percent stake in its businesses and offers a $25,000 convertible note.
Not a Bank
Airbitz' bitcoin wallet is similar to wallets from PayPal or Square Inc., Puey said.
He said there are two types of vendors in the bitcoin market. Some companies work as bitcoin banks, and hold the digital currency for depositors. Airbitz is not a bank and "we can't access users' funds," Puey said.
Other solutions let individuals hold their own bitcoin, but are hard to operate. A person needs to be a technical expert to use them, Puey said.
Airbitz marries convenience and ease of use, the CEO said. The Airbitz website said its product has advanced features for the technically inclined.
Puey said he started his company after taking "a couple of 180s in life."
As a software and hardware engineer, he worked for Nvidia Corp. He then went into small business management and finance, working at restaurants, bars, gyms and small businesses that take people to explore the great outdoors. The latter appeals especially to Puey; he is a rock climber who enjoys outings at Idyllwild, the Yosemite region, Las Vegas' Red Rock Canyon and Mission Trails Regional Park.
Puey noted that Paul Graham, founder of Silicon Valley's Y Combinator accelerator, advised people to "live in the future, then build what's missing."
Taking the advice to heart, Puey lived in the future by using bitcoin. He bought groceries at a farmers market and bought gift cards online. Puey said he could have gone the conventional route and done his shopping through Amazon, but the experience "let me see what it feels like" to use bitcoin.
In trying to use bitcoin, Puey began to see what the system really needed.
The CEO said Airbitz is something rare in San Diego technology circles: it's a company that serves consumers directly.
In his eyes, San Diego has some growing to do.
If San Diego wants to bill itself as an innovative place, the community needs to "put its money where its mouth is," Puey said. It must embrace innovative technology, and it has to do it on a political level.
"San Diego is losing out on a significant amount of innovative, disruptive technology," Puey said.