Task Force: Mission Valley Stadium Site Would Save $250 Million
Thursday, March 12, 2015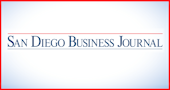 Building a new San Diego Chargers stadium in Mission Valley rather than downtown will save roughly $250 million in project costs, leaders of a mayoral-appointed task force said at a March 12 news conference outside of Qualcomm Stadium.
Adam Day, who chairs the Citizens' Stadium Advisory Group, said previous proposals seeking a joint-use stadium and convention center expansion downtown would cost the city about $150 million to relocate a Metropolitan Transit System bus yard.
Also, the city would need to buy multiple downtown properties and make needed zoning changes, with land purchases likely to cost $100 million, according to data the task force obtained from JMI Realty.
"The city owns the Mission Valley site, which covers 166 acres of land," Day said. "A lot of that land could be developed to help pay for the stadium."
Task force leaders said developing on the current Qualcomm Stadium site, much of which is covered by parking lots, could also open up the nearby San Diego River to walking and biking paths. The entire area could become "a village within a city," Day said.
Task force members were joined at the news conference by representatives of Chargers fan groups Bolt Pride and Save Our Bolts, the San Diego River Park Foundation, and Chargers player alumni including Shawne Merriman and LaDainian Tomlinson.
Chargers executives did not attend the news conference, and the team is currently exploring a Carson stadium proposal in which it would share development costs with the Oakland Raiders. Day said Chargers officials have recently told him that they want to remain in San Diego and would support a project at either of the San Diego sites.
"On the Qualcomm vs. Downtown site issue, we've really made our point of view clear on this issue repeatedly over the last couple of years, and there isn't anything new to add today," said Chargers special counsel Mark Fabiani in an email following the news conference.
The Chargers put forth proposals to build in Mission Valley about 10 years ago but were rebuffed by prior city administrations, leading the team to switch its emphasis to downtown's East Village about five years ago.
With the location issue decided, Day said the task force is now aiming to finalize a financing plan for a new stadium by the end of May.
The task force favors a multi-use community stadium that would host college and high school football games, concerts and other events in addition to Chargers games.