Kura Oncology Raises $60 Million in Private Stock Offering
Thursday, March 12, 2015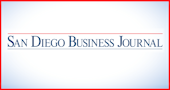 Kura Oncology Inc., a precision medicine company pursuing treatments for solid tumors and blood cancers, announced Thursday that it has raised $60 million in a private stock offering.
The funding round was led by San Fransisco-based EcoR1 Capital, a biotech-focused investment firm. The funds will be used to advance development of the company's drug candidate pipeline.
The La Jolla-based company also announced an agreement with Janssen Pharmaceutica NV, in which Kura Oncology will assume sole responsibility for the development and commercialization of the drug candidate tipifarnib.
Tipifarnib has demonstrated encouraging clinical activity in certain cancer patient populations and is ready for Phase 2 clinical trials, according to a recent news release.