Price of Acadia Shares Soar on Speculation of Possible Sale
Tuesday, March 10, 2015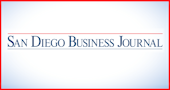 Shares of San Diego-based Acadia Pharmaceuticals Inc. rose to its highest price ever after the company canceled two investor meetings, sparking speculation that a deal to buy the drugmaker could be in the works, according to Bloomburg Business.
Acadia (Nasdaq: ACAD), which is developing drugs for Parkinson's disease and other disorders of the central nervous system, rose 18 percent to $45.88 at the close in New York. It was the biggest one-day gain since April 2013 and the highest closing price since shares began trading in 2004.
Acadia was scheduled to speak at a March 3 conference hosted by Cowen & Co. and a conference Tuesday hosted by Roth Capital Partners. The company didn't appear at the Cowen event. Acadia also canceled the Roth appearance "at the last minute," Elemer Piros, an analyst with Roth based in New York, told Bloomburg.
Acadia had a market capitalization of about $4.6 billion as of Tuesday's close, and the shares increased 67 percent in the past 12 months.