Port of San Diego Has Annual Economic Impact of $4.4. Billion
Tuesday, March 10, 2015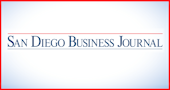 The Port of San Diego has an annual economic impact of $4.4 billion, according to a study commissioned by the agency and issued March 10.
Ripple effects from all that business sent another $3.2 billion into the community, the study said.
The new study is based on 2013 data, the most recent available. The economic impact is up 8 percent since 2011.
Some 33,356 jobs — paying an average wage and benefit package of $52,000 a year — were located on port tidelands in 2013; the number of jobs rose 9 percent from 2011.
The port said that if the various businesses along San Diego Bay were collectively one employer, that employer would be the second-largest in San Diego County, behind the State of California. The survey excluded U.S. Navy bases.
The port commissioned the study through Oakland-based Economic & Planning Systems Inc.