County Posts Unemployment Rate of 5.8 Percent in January
Tuesday, March 10, 2015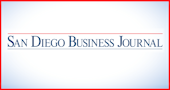 The unemployment rate in San Diego County was 5.8 percent in January 2015, up from a revised 5.5 percent in December 2014, but below the year-ago estimate of 7.2 percent, according to the state Employment Development Department.
This compares with an unadjusted unemployment rate of 7.3 percent for California and 6.1 percent for the nation during the same period.
Between December 2014 and January 2015, total nonfarm employment declined from 1,378,400 to 1,358,300, a decrease of 20,100 jobs. Agricultural employment added 100 jobs, or 1.0 percent.
Trade, transportation, and utilities reported the greatest month-over decline, down 9,900 jobs. Seasonal dwindling in retail trade (down 9,400) accounted for more than 90 percent of the job losses in this sector, primarily from general merchandise stores (down 3,300) and clothing and clothing accessories stores (down 2,400). Transportation, warehousing, and utilities decreased by 500 jobs, while wholesale trade remained unchanged. Seven other sectors also posted job losses over the month: leisure and hospitality (down 3,900); government (down 3,600); professional and business services (down 1,700); educational and health services (down 1,500); other services (down 900); manufacturing (down 800); and information (down 100).
Two industries recorded month-over job gains. The most significant job growth came construction (up 2,200), mainly from specialty trade contractors (up 1,500). Financial activities added 100 jobs.