Chief U.S. Trade Official to Tour Two S.D. Businesses
Monday, March 9, 2015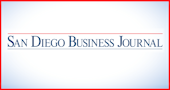 U.S. Trade Representative Michael Froman and Congressman Scott Peters on Tuesday will visit Ballast Point Brewing and Spirits and Solar Turbines Inc., two San Diego companies they say illustrate how exports and trade unlock economic opportunity for Americans.

Ballast Point Brewing and Spirits is exporting craft beer to multiple Asia-Pacific countries. Solar Turbines, a Caterpillar subsidiary, exports industrial gas turbines for oil and gas production and transmission and power generation.

In 2014, California exported a record-breaking $174.1 billion in goods to the world – supporting almost a million jobs; $17.9 billion of those exports came from the San Diego area.