SDG&E and SoCalGas Name Folkmann CFO
Sunday, March 8, 2015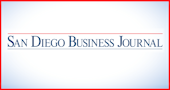 The boards of San Diego Gas & Electric Co. and SoCalGas, meeting March 6, named Bruce Folkmann, 47, as chief financial officer of the utilities.
Folkmann will take the place of Robert Schlax, who resigned from the job on March 6. Schlax's resignation takes effect March 28, and Schlax will continue to serve as a vice president of the utilities until his anticipated retirement this summer.
Both utilities are subsidiaries of publicly traded Sempra Energy (NYSE: SRE).
The job being transferred from Schlax to Folkmann carries multiple titles. In addition to being CFO, Folkmann will serve as chief accounting officer, controller, treasurer and vice president of SDG&E and SoCalGas.
Folkmann currently works as vice president and CFO of Sempra U.S. Gas & Power. His base salary of $273,000 will stay the same in connection with his new role. His target bonus opportunity for 2015 will be set at 45 percent of his base salary with a maximum of 90 percent, which is unchanged from his current bonus opportunity.