BANKING: MERGER WITH PACIFIC COMMERCE APPROVED BY SHAREHOLDERS
Vibra Earns Top Ranking For Lending
Friday, March 6, 2015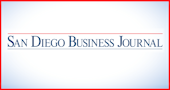 Vibra Bank said that it has been recognized as the No.1 "small size" SBA 7(a) lender for all of 2014 by the San Diego District Office of the U.S. Small Business Administration.
The award was announced recently at the annual San Diego District SBA awards luncheon by Ruben R. Garcia, director of the SBA's San Diego District Office. Brian McClendon, Vibra Bank's senior VP/SBA division sales manager, accepted the award on behalf of the bank. The award recognized Vibra Bank as No.1 in both number of loans made and total dollar volume for this category during 2014.
"This is the second year in a row Vibra Bank has been recognized as being the No.1 ranked 'small size' SBA lender in the SBA's San Diego district," said Frank Mercardante, president and CEO of the bank.
It was announced recently that Vibra Bank's and Pacific Commerce Bank's shareholders separately approved the proposed merger of the two banks first announced in October of 2014.
The banks said the merger is expected to close early in the second quarter of 2015.