TRADE: PLAN COMING TO BOOST EXPORTS, INVESTMENT
Trade Opportunities Being Overlooked
Friday, March 6, 2015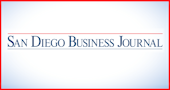 A coalition of nearly 400 businesses, universities and public agencies is getting ready to embark on a mission to turn the San Diego region into a bustling hub for international trade and foreign investment.
On March 11, the coalition, led by the San Diego Economic Development Corp., (EDC) will unveil the Global Trade and Investment Plan. The culmination of three years of research, the plan will detail actions and programs to increase the amount of foreign investment in the San Diego region and to assist companies in their efforts to go global.
The collaborative effort was inspired by the Global Cities Initiative, a joint project of the Brookings Institution and JPMorgan Chase designed to help cities build international relationships. The project was launched after Brookings began to study the economic recovery following the 2008 recession. Their research found that half of the United States' economic growth in the first year of post-recession recovery came from exports.
Rather than rely on the federal government, Brookings and Chase identified cities as being the key to increasing American exports. The idea is to link metropolitan areas to create a network of global hubs across the country.
Bucking National Trends
San Diego's participation in the Global Cities Initiative began in 2012, when it was one of eight metro areas selected by Brookings to participate in an exchange program intended to help regional leaders create and implement strategies to increase exports.
The San Diego Economic Development Corp. took charge, building a network of more than 350 local business and educational leaders whose input, in combination with macroeconomic research, resulted in a 2014 market assessment of the region.
The findings were not pretty. San Diego's export economy struggled to make significant gains over the last decade, growing at a pace of 1.4 percent between 2002 and 2010. While San Diego's gross metropolitan product (GMP) has grown slowly, exports have not kept pace. This is contrary to national trends, which have seen an increase in the export share of gross domestic product (GDP).
Although San Diego ranks 17th in the nation in total export value, GMP and population size, it ranks 61th in terms of export intensity. According to the EDC, the sluggishness of export activity has made San Diego less competitive on a national and global scale.
"We have to have an economy based on innovation, manufacturing, research and development, not consumption and debt," said Efrem Bycer, manager of economic development at the EDC. "Which is why Brookings and Chase are so interested in San Diego — they see the building blocks of that here."
Sarah Lubeck, communications manager at the EDC, added, "There's only so much you can do in an isolated area, and we're in an increasingly globalized world. What Illumina's doing in San Diego with their genome processors is going to be used in Singapore. Even tourism-related exports are going to need to cross international bounds. Pretty much anything that we do needs to be seen from a global standpoint."
What Holds San Diego Back?
So why has San Diego fallen behind other metropolitan areas in terms of exports? There could be a slew of factors, including global perception of San Diego and a lack of awareness of available resources to businesses looking to go global. But one major obstacle is clear — infrastructure.
The San Diego International Airport has eight international flights, only two of which are intercontinental — with destinations to Japan and England.
"It's no coincidence that Japan and England are in our top five largest traded export markets and two largest sources of foreign direct investment," Lubeck said.
With dense development surrounding the airport, there is little room for expansion. Without a clear demand for more intercontinental destinations, airport officials may be hesitant to expand international offerings.
Bo Reed, the executive chair of the San Diego and Imperial District Export Council said that opportunities to improve infrastructure extend beyond the airport.
"Expanding the operations and capabilities at the port would be helpful to people looking to export goods," Reed said. "Along those same lines, having a rail link from the port going east could improve logistics as well."
Reed also said that adding an air cargo terminal in the region or otherwise expanding air cargo capacity — perhaps even at the Tijuana International Airport — may be a good alternative to expanding the development-locked San Diego International Airport.
The EDC and its partners — including BIOCOM, Qualcomm, California State University San Marcos, San Diego State University, the Tijuana EDC, and the Unified Port of San Diego — will announce plans to tackle the export problem at its sold-out event in March.