Spotlight On Parking App for Its Launch
Friday, March 6, 2015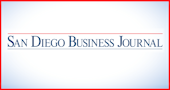 The ballots have been cast, but the results won't be announced for another month.
Scores of San Diego residents voted last month via Facebook for one of four proposed names for an app that will make it easier and quicker to find parking downtown.
The choices were:
• ParkMateDTSD
• parkDowntownSD
• ParkIt!SD
• TopSpotDTSD.
The contest was sponsored by two nonprofits that work to better the downtown: Civic San Diego and the Downtown San Diego Partnership.
"What's in a name? A lot. So we wanted to get the community involved to ensure we have a name that delivers on the promise of this new parking app — which is to make it easier to find parking and explore all downtown has to offer," said Kris Michell, president and CEO of the Downtown San Diego Partnership.
During the first phase of its launch, the free parking app will provide off-street parking availability for 50 locations within downtown and real-time availability for two Civic San Diego–managed parking structures.
Using an interactive map of the coverage area, users will be able to quickly locate the best parking options, searching either by location or by price. The app will help visitors later locate their vehicles with ease.
Finally, the app will include opt-in alerts about downtown happenings, such as special events or street closures.
The mobile responsive app will be iPhone and Android compatible.