TRANSPORTATION: INITIATIVES RANGE FROM APP TO UNDERGROUND GARAGES
Solutions in Works to Meet Downtown Parking Demand
Friday, March 6, 2015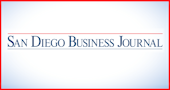 As downtown welcomes more mixed-use projects that bring with them more residents, more consumers and more businesses, there remains a daunting challenge: finding a place for all those people to park.
Several initiatives are in the works, according to the leaders of Civic San Diego, the city's downtown project oversight agency, and the Downtown San Diego Partnership, the two nonprofits spearheading efforts to meet the growing demand.
They include a free parking app, a shuttle service that quickly and efficiently moves people throughout the downtown, and public-private partnerships that put new public parking underneath parks and mixed-use development projects.
"Downtown San Diego must continue to offer ample and affordable parking to entice new businesses and visitors to our urban center," said Kris Michell, president and CEO of the Downtown San Diego Partnership, which promotes economic and cultural development.
Michell said efforts to supply adequate parking are being blended with initiatives that cater to the millennials, young people in their 20s and 30s, who are living and working downtown.
"Many millennials no longer want two cars and a house in the suburbs," she said. "Increasingly, they are choosing to have one car or none at all and are opting instead to walk, bike, use public transit or ride share to get where they need to go."
Still in a Tough Spot
Despite the demand for alternate modes of transit, most San Diegans still rely on their cars so the pressure remains to provide more parking.
There are an estimated 65,000 on- and off-street parking spaces available downtown, according to the Comprehensive Parking Plan for Downtown completed in 2009. The Downtown Community Parking District, which manages parking under the direction of Civic San Diego, is updating that plan, and the number of available parking spaces, said Reese Jarrett, president of Civic San Diego.
Jarrett said the Downtown Community Parking District manages three public parking garages that provide more than 1,500 parking spaces: the 6th and K Parkade, Park It On Market, and Cedar Gateway on Sixth Avenue.
Two-Wheel Appeal
To accommodate the growing use of bicycles, the agency installed 200 bike racks in 2014 and will install an unspecified number in 2015.
"For a retailer or restaurant, having a bike rack in front of their business is like adding a parking space right at their door," Jarrett said.
By the end of this year, the agency also will replace the wayfinding signage system installed nearly 15 years ago with one that offers better directions to pedestrians, bicyclists and cars.
Jarrett said Civic San Diego also supports Neighborhood Parking Programs in three downtown neighborhoods — Little Italy, the Gaslamp and East Village. The neighborhood associations use parking meter revenues to implement parking programs and projects unique to their neighborhood parking needs, such as the universal valet and 2-hour free parking on Saturdays in Little Italy, a bicycle facility event in East Village, and a $2 Tuesday special parking rate in the Gaslamp.
On Tap for the Coming Year:
• "We plan to develop parking garages under new parks on four sites downtown," Jarrett said. "We are in the planning stage for a garage under the East Village Green West Block site. Additional garages are proposed under the East Village Green East Block and at two other locations downtown."
• The Downtown Parking Mobile Application, a collaboration between Civic San Diego and the Downtown Partnership, will be launched by the summer as the go-to mobile app for parking availability. The app will include off-street parking options and provide the ability to search by location, distance or price.
• Michell said it's not enough to add more spaces; there must be a way for people to park and then move about the city without having to find another parking space. The Parking District is currently negotiating for a Downtown Circulator Shuttle System. The shuttle will be a demand-response system available to visitors, employees, and residents of downtown for point-to-point transportation at little or no cost.
• The Complete Streets Mobility Plan now being drafted will be the first program to implement comprehensive changes to downtown's circulation. It will balance the needs of vehicles, public transportation, pedestrians and bicyclists, Jarrett said. It will establish the number of ideal vehicular lanes for each street in the Downtown Community Plan area, designate what type of bicycle facilities belong on specific streets, and coordinate parking configurations with the street traffic.
• To increase pedestrian safety, the Parking District is funding the Island Avenue Pop-out project, located in the East Village neighborhood. The project, to be completed this year, will complete gaps in the Island Avenue Green Street sidewalk improvements and add six new parking spaces along Island Avenue.