TOURISM: CONVENTION CENTER EXPANSION STILL THEIR NO. 1 PRIORITY
Funding Stadium With TOT May Not Be Hot Idea With Hoteliers
Friday, March 6, 2015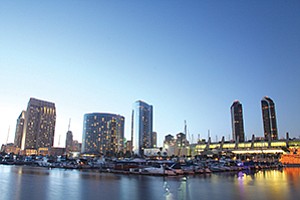 The hospitality business community will be among the groups a mayor's stadium task force will meet with in coming weeks to talk about ways to keep the San Diego Chargers in town.
But it's uncertain whether hoteliers will have much to offer in the way of financing alternatives as the hospitality and tourism community's first priority remains getting a convention center expansion built — preferably next to the existing downtown waterfront facility.
Some speakers at a recent public forum hosted by the Citizens' Stadium Advisory Group, which brought around 2,000 people to Qualcomm Stadium, suggested the city explore raising the transient occupancy tax — currently at 10.5 percent of hotel room bills — as one way to help fund stadium construction or renovation.
While local hotel leaders say they are open to talks with the task force, it appears that any discussion of a hotel-tax hike, especially one geared to a football stadium rather than a convention center project, would be a tough sell.
"Obviously, there's a value in having everybody in the country seeing San Diego and how beautiful it is when the Chargers are on TV and the weather everywhere else is bad — that's a no-brainer," said Namara Mercer, executive director of the 225-member San Diego County Hotel-Motel Association. "But we have not supported any specific plan regarding how you would finance a stadium, such as a change in the TOT."
The association's membership includes operators of hotels with around 23,000 rooms in the local market, and Mercer said the only recent vote taken by the group was a unanimous re-affirmation of a previous goal of obtaining a contiguous convention center expansion downtown.
Convention center and city officials have been mulling ways to finance a proposed $520 million expansion of the facility after a court last year struck down a hotelier-approved room-bill assessment that would have financed the bulk of project costs. Like any stadium-financing plan, a revised convention center plan involving the collection of new money will likely require a majority vote of the general public.
A 2003 study done by consultant Barrett Sports Group for a previous city-appointed Chargers stadium task force noted that nine NFL teams had used hotel taxes as a primary funding source for stadium-related projects. Four of those — the Detroit Lions, Seattle Seahawks, Houston Texans and Arizona Cardinals — also used funds from rental car tax collections.
In San Diego, the only current tax collections designated specifically for Qualcomm Stadium include taxes on parking and ticket sales at the venue.
According to data in a 2012 report by the International Society of Hotel Association Executives, San Diego's current TOT rate is below that of several other major destinations in California, including Anaheim (15 percent), San Jose (14.6 percent), Los Angeles (14 percent), San Francisco (14 percent), Long Beach (12 percent) and Santa Barbara (12 percent).
Local convention center and stadium interests have been at odds for the past few years, and tensions came to a head in 2013 when Chargers representatives asked the California Coastal Commission not to approve the convention center expansion without first reviewing the team's proposal for a dual-purpose stadium with event space on land across Harbor Drive in East Village.
The coastal panel subsequently approved the convention center project, but that was rendered moot by last year's court ruling on the funding mechanism. Since that ruling, convention center backers have not rushed to join the Chargers or other entities recently proposing non-contiguous event spaces downtown.
In recent days, discussion by local officials has returned to using the existing Mission Valley site of Qualcomm Stadium for a new or renovated facility, after concerns were raised about the time and costs that would be involved in cleaning up the downtown city bus yard site that has long been eyed as a potential football stadium location.
Mayor Kevin Faulconer has tasked the stadium advisory panel with devising a viable financing plan for a new or renovated stadium within the next 90 days. The Chargers raised the urgency level with its recent announcement that it was considering partnering with the Oakland Raiders to build a $1.7 billion stadium in the Los Angeles suburb of Carson.
San Diego hotel consultant Robert Rauch, who also owns and operates two Hilton-branded properties in Carmel Valley, said he personally would like to see a contiguous convention center expansion built downtown while the city pursues a Chargers project in Mission Valley.
But he remains open to having the hospitality community discuss matters with the mayor's stadium task force, especially because the Chargers have always delivered important public relations and civic pride benefits for the region.
"As an economic generator, a convention center is going to deliver a lot more bang for each $100 million spent," said Rauch, president of R.A. Rauch & Associates Inc. "But that doesn't mean we shouldn't sit down and talk to people about ways to finance or build a stadium."
Several people at the recent public forum suggested the city should reach out to other regional entities for economic help in securing the Chargers, such as the county, port district, higher-educational institutions and the San Diego Association of Governments, the region's planning agency.
In an earlier meeting with the task force, County Supervisor Ron Roberts suggested that the county might be able to help finance the public cost of a new stadium by way of a "bridge loan." Such a loan, Roberts said, could help front the public cost — still not determined — until surrounding development brings its own new revenue to the city.
In that scenario, he said, a bridge loan would likely work best for a stadium at the existing Mission Valley location, which could have adjacent retail and other commercial development bringing in additional revenue.