LOGISTICS: FIRM DECIPHERS, DELIVERS TRUCKING DATA
For Entrepreneur, It's All About the Journeys: Truck Journeys
Friday, March 6, 2015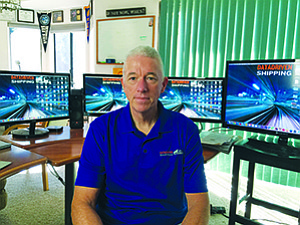 After driving the first leg of his entrepreneurial journey, Douglas Hayden is moving over to let someone else take the wheel.
Hayden is the owner and CEO of Data Driven Shipping, a small operation that offers business data to people who want to work with the trucking industry.
Not long ago, he engaged a software writer to develop some code able to convert a huge, inscrutable federal government database into user-friendly bits of business intelligence. Hundreds of subscribers now pay $20 per month or $100 per year for unlimited access to leads in the Data Driven Shipping service. Competing businesses charge 49 cents to 75 cents per record for the same information.
By now Hayden has poured about $100,000 into Data Driven Shipping. The business is now at a point where it needs to raise more capital, on top of increasing its subscriber base, so it's an appropriate time for a change, the owner said.
Enter Michael Hayden — who is no relation to the business founder — who plans to sign papers this week making him the new CEO of Data Driven Shipping.
Data and analytics are "the future of logistics," said Michael Hayden, who is getting his Master of Business Administration degree from the Rady School of Management at the University of California, San Diego.
Michael Hayden, 47, spent a few years in the trucking industry and 21 years in the U.S. Marine Corps. He served as a roadmaster for the Marines' southwest region, and retired as a gunnery sergeant. In addition to business and academic pursuits, he runs the UCSD Entrepreneurship Challenge program.
It was the Rady School that originally brought the Haydens together.
Michael Hayden declined to get specific about his plans, but he said he wants to add employees and start a consumer-facing business.
A One-Man Shop
So far, Data Driven Shipping has been a one-man operation, with Doug Hayden, 58, outsourcing all the specialized help. His daughter, who works for Google Inc., lent a hand in producing a promotional video.
The elder Hayden has a background in the trucking industry — he was with a freight brokerage for nine years — so he was familiar with the Federal Motor Carrier Safety Administration database. He found it tough to deal with.
Until recently, he said, FMCSA data was only available to the public on a compact disc, which arrived by postal carrier after eight to 10 weeks of waiting. Today it's possible to download the agency's data, though Doug Hayden said the service can be difficult to order. Those able to get data from the federal government would probably have a hard time making it into something useful, he said.
But he saw potential. So the elder Hayden went looking for a computer-savvy person to write code for a new business. He ended up with a freshman computer science student from UC San Diego, who completed the job with flair and polish.
Today, a person using the Data Driven Shipping service can specify the type of data he wants — for example, contact information for trucking companies in Oregon who have fleets of 10 to 100 vehicles. The customer can then download it in his choice of formats, whether it is Apple contacts, Google contacts, Microsoft Outlook, Salesforce.com or Yahoo contacts.
Almost 1.4 million trucking companies are in the database, as are 45,000 shippers and brokers.
Doug Hayden compares his work of simplifying transportation industry data to Zillow's role in simplifying complex real estate data.
The transportation data "is out there and ours. We pay for it as taxpayers."
Data Driven Shipping makes the material "1,000 percent easier for people to use," he said.
DATA DRIVEN SHIPPING
CEO: Douglas Hayden
Revenue: Undisclosed
No. of local employees: One
Investors: Douglas Hayden and family
Headquarters: Encinitas
Year founded: 2014
What makes the company innovative: The business offers federal government census data in a user-friendly format, online, using proprietary computer code