PROPERTY: MILLENNIALS KEEP COMING; HOPE IS FOR MORE BUSINESSES TO FOLLOW
Downtown Draw
Friday, March 6, 2015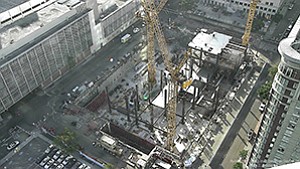 The post-recession recovery will be palpable in downtown San Diego starting later this year, as hundreds of new apartments hit the market with the completion of several big projects.
Those dwellings will be joined by significant new retail space aimed at serving residents of those buildings and their surrounding neighborhoods, particularly in the now-bustling East Village. Hotel projects approved in the past year have also begun construction around downtown, with completions expected in 2015 and 2016.
According to data from Civic San Diego and the nonprofit Downtown San Diego Partnership, downtown as of December 2014 had 2,109 apartments and condos under construction. That number is greater than the total 1,695 units completed in 2010, 2011, 2012, 2013 and 2014 combined — and in 2011, no apartments were completed.
"What's being built right now is a lot more than we had under construction just a year ago," said Reese Jarrett, president of Civic San Diego, the city's downtown project oversight agency that is also a successor to its redevelopment agency.
In addition to projects now underway, Jarrett said his agency is reviewing an additional 14 projects that would bring 2,800 more apartments and condos with adjacent retail to the downtown area.
It also has several initiatives slated to launch starting this summer, timed to serve the rising downtown population via a circulation shuttle connecting downtown neighborhoods, and mobile app-enabled parking services aimed at making more efficient use of available spaces throughout the downtown.
Also down the road will be new way-finding signs aimed at helping downtown visitors find prominent local venues such as City Hall and the Convention Center, to help cut down on fuel-wasting vehicle trips by lost motorists and new residents.
Kris Michell, president and CEO of the Downtown San Diego Partnership, said the completed pieces falling into place this year demonstrate long-anticipated national trends now hitting home.
Downtown is witnessing an influx of investment, as people of all ages — particularly the 35-and-under millennials — flock to urban centers with live-work-play features within walking distance or with easy access to public transit.
"It's also a sign of a seismic shift in the way San Diego will evolve," Michell said.
East Village Evolving
Much of the current activity is centered on downtown's largest neighborhood, East Village, where Vancouver-based Pinnacle Development is expected around mid-year 2015 to complete the first 481 apartments, in what is planned as a two-tower apartment and condo development with more than 900 residential units. The first phase also includes 8,000 square feet of retail and a 57,000-square-foot park.
Also in East Village, J Street Hospitality Inc. has a 90-room hotel under construction and set for completion later this year, not far from where Hilton Worldwide recently announced plans for a luxury hotel called Canopy by Hilton, likely arriving in 2016 or 2017. Next-door in the Gaslamp Quarter, The Robert Green Co. recently began construction on a new 317-room luxury hotel called Pendry San Diego, expected to be completed in August 2016.
Developers in the northeast part of East Village are looking to capitalize on the evolving scene, where projects by next year will bring hundreds of new daily residents to the downtown area.
Makers Quarter Developing
Developers of projects in the I.D.E.A. District — long envisioned as a hub for entities geared to innovation, design, education and the arts — are seeing those elements gradually falling into place.
A new charter school is under construction and a project known as Fab Lab — geared to research and development of high-tech printing and industrial technologies — recently relocated from Kearny Mesa to an East Village spot adjacent to Makers Quarter. The five-block, mixed-use community was first unveiled two years ago by a development group that now includes Lankford & Associates, Hensel Phelps and HP Investors.
Civic San Diego recently approved plans for the development's first residential project, known as Broadstone Makers Quarter, a 269-unit apartment building with 5,000 square feet of retail, being built by Alliance Realty Partners LLC.
Next up on developers' agenda, said Makers Quarter urban planner Stacey Pennington, is moving forward on a planned 50,000-square-foot building with collaborative office space, once tenants are lined up. Pennington said developers are optimistic about attracting companies that are either led by or are staffed by the young creative and tech-savvy consumers now increasingly making urban neighborhoods, such as South Park and Golden Hill, their home.
"It's been a process of evolution for this neighborhood," said Pennington, noting that a temporary venue known as Silo has brought numerous music and arts events to Makers Quarter, along with other "tactical urbanism" features such as pocket parks that have demonstrated the livability of the neighborhood to visitors.
Looking for Corporate Tenants
Matthew Carlson, a CBRE Group Inc. senior vice president who is handling commercial office leasing for Makers Quarter, said the evolving scene should also help attract corporate tenants. Those might include public relations, Web design and other types of creative and tech-oriented small firms that recently have been establishing a beachhead elsewhere in downtown San Diego.
"We're also still elephant-hunting," said Carlson, referring to the search for larger companies that might set up an entire campus within Makers Quarter.
While new office projects are not as prevalent as apartments at the moment, one new venue set to open this year is the new East Village headquarters of Sempra Energy. Locally based Cisterra Development is nearing completion on a 280,000-square-foot office building at Eighth Avenue and J Street, with 14,000 square feet of ground-floor retail, which Sempra is slated to begin occupying before year's end, near Petco Park.
Elsewhere in East Village, the evolving scene could bring more corporate tenants.
According to Richard Gonor, an executive vice president with JLL who is handling leasing for projects including IDEA1, another mixed-use development in East Village, about 4.5 percent of office space leased throughout downtown in 2011 was inbound traffic from other San Diego submarkets.
The figure nearly doubled to 8.9 percent in 2012, and as of the end of 2013 it had nearly doubled again, to 16.8 percent. At the same time, Gonor noted, the number of tenants leaving downtown has dropped substantially.