Company's Employees Bring Boatload of Support to Food Bank
Friday, March 6, 2015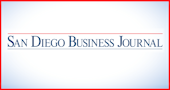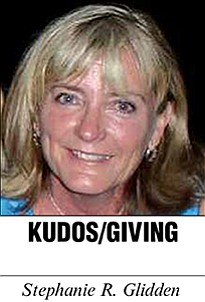 San Diego BAE Systems employees collected nearly 2,000 pounds of food and presented a $5,000 check to the San Diego Food Bank. It was a team effort by employees from Ship Repair San Diego, Intelligence and Security in Rancho Bernardo and Weapons Support staff in National City. The food bank distributes food directly to families and individuals in need at 183 distribution sites throughout San Diego County every month. The food bank also provides food to 350 nonprofits that operate feeding programs. These nonprofits include soup kitchens, shelters, churches with feeding programs, schools, senior and disabled living facilities, and food pantries.
• • •
The San Diego Financial Literacy Center announced a strategic partnership with Miramar Federal Credit Union to educate and provide financial tools to underserved military youth and young adults, as well as veterans. The collaboration hopes to break the cycle of financial mismanagement that can plague military personnel. Tammy Dahl, marketing director of Miramar Federal Credit Union said this program is an extension of the credit union's current efforts. Visit sdflc.org.
• • •
The San Diego Symphony, announced that Katy McDonald has been named as its chief of staff, a new position at the symphony. McDonald will work closely with Martha Gilmer, the symphony's CEO, and senior staff and administrative team on a variety of issues. McDonald was formerly the director of external affairs for the San Diego Museum of Art.
• • •
The Boys & Girls Clubs of Carlsbad honored three young people in its Youth of the Year program. Vanessa Garcia won the Youth of the Year title and was awarded a $10,000 scholarship. Samantha Bowen and Marcos Fausto were the runners-up and each will receive $1,500 scholarships. The program recognizes superior leadership skills, academic achievement, obstacles overcome and outstanding service to Boys & Girls Clubs and the community. Thanks to the generosity of Julie and Matt Harelson, Keith Blackburn and Kim Akers of West Inn & Suites. Visit www.bgccarlsbad.org for more information.
• • •
Stone Brewing Co. announced that its employees contributed more than $490,000 in cash and donated more than $230,000 worth of beer to various charities in 2014. Greg Koch, co-founder and CEO, said since its founding in 1996 the company has donated "more than $3 million to charitable and nonprofit organizations throughout the world."
• • •
The San Diego chapter of the American Society of Landscape Architects recently awarded grants to local nonprofits to help with the design or construction of landscape architectural improvements in locations such as parks, schools and neighborhoods. The 2014 winners were The Living Coast Discovery Center's Hummingbird and Pollinator Garden, the Habitat Garden Outdoor Classroom at Loma Portal Elementary School and the Agua Hedionda Lagoon Native Garden and Trail Enhancement. Tim Smith, ASLA chapter president, said the grant program was established to "benefit the community and environment as well as educating and enhancing community awareness of the profession of landscape architecture." The grant is supported by the proceeds of the annual ASLA Community Grant Golf tournament.
• • •
The Boys & Girls Clubs of Greater San Diego announced the appointment of six new members to its board of directors. Rosemary Bailey, an assistant vice president for Arthur J. Gallagher & Co.; Terry Brown, vice president/director of St. Mar Enterprises; Jennifer Harper, director of community relations for Prescott Management; Jeff Levinson, a retired attorney; Erik Moore, principal of Moore, Schulman & Moore Family Law Firm and Stephen Tate, senior vice president of brand operations for Sony Electronics. New club Chairman Dan Weber announced the appointments at a recent board meeting.
• • •
San Diego-based Millennium Health announced a partnership with the Mark Wahlberg Youth Foundation and Partnership for Drug-Free Kids' Medicine Abuse Project, and launched a new campaign to increase awareness of the problem of prescription medicine abuse by youths. The partnership effort provides actionable guidance for teens, parents and concerned adults.
Send Kudos/Giving items to sglidden@sdbj.com.