USD Names Norm Miller to Endowed Chair
Thursday, March 5, 2015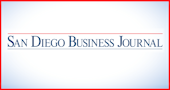 Norm Miller has been named the Ernest W. Hahn Chair of Real Estate Finance at the Burnham-Moores Center for Real Estate in the School of Business at the University of San Diego.
USD established the endowed chair as a lasting tribute to the late Ernie Hahn, the former chairman of the university's Board of Trustees. Hahn had a successful career in real estate development and real property management, specializing in regional shopping centers and neighborhood convenience stores. He founded his firm, The Hahn Co., in 1946 and it became a major national influence in commercial real estate development.
Miller joined the Burnham-Moores Center faculty in 2007. Before that, he was at the University of Cincinnati for many years where he was academic director and the founder of the real estate center. He received his doctorate from Ohio State University. Miller is active on the editorial boards of several journals and past president of the American Real Estate Society.