Sean Karafin Joins San Diego Regional Chamber of Commerce
Thursday, March 5, 2015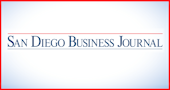 Sean Karafin has been named the executive director of public policy and economic research for the San Diego Regional Chamber of Commerce. The Chamber also recently added Sophie Barnhorst to the staff as a policy assistant to support public policy and advocacy efforts.
Karafin joins the Chamber from the San Diego County Taxpayers Association, where he served as vice president. He brings a strong background in economic research and extensive experience in policy analysis, advocacy, and coalition building. He authored the 2014 "Minimum Wage & Poverty in San Diego" study that was produced in partnership with the Chamber.
In his new role, Karafin will lead the Chamber's economic research efforts and assist Chanelle Hawken, who has been elevated to vice president of public policy, in overseeing the day-to-day activity for the public policy department as well as manage policy positions and agendas for various Chamber policy committees.
Barnhorst, a recent graduate of the University of California, Santa Cruz, has experience working in local city government and government agencies. She will provide general support and assistance to the policy department.