Region's Leading Economic Indicators Up Sharply in January
Wednesday, March 4, 2015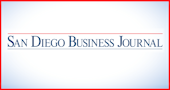 Economic indicators for the San Diego region rose sharply in January, according to the University of San Diego.
The Burnham-Moores Center for Real Estate Index of Leading Economic Indicators for San Diego County rose 1.4 percent month-over-month to 134.2. It was the first time since February 2011 that all six components of the index showed gains.
The index stood at 127.6 one year ago.
The strongest indicators were a decline in initial claims for unemployment insurance (recorded as a positive, increasing 2.51 percent) and an increase in help-wanted advertising (up 2.44 percent). Both point to a strong labor market.
Building permits rose 1.34 percent. Consumer confidence was up 0.89 percent, local stock prices were up 0.85 percent and the outlook for the national economy was up 0.49 percent.
Alan Gin, associate professor of economics at the university's School of Business Administration, compiles the index, which has risen in 10 out of 12 months since January 2014.