Holiday, Poinsettia Bowls Generated Over $35 Million for Region, Study Finds
Tuesday, March 3, 2015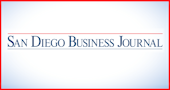 San Diego's two postseason college football games combined to produce an economic impact of $35.3 million for the local region in 2014, up nearly $5 million from the previous year, according to a study conducted by the San Diego State University Center for Hospitality and Tourism Research. The annual games are organized by the San Diego Bowl Game Association.
The 37th annual National University Holiday Bowl featured a Dec. 27 matchup between Nebraska and USC that generated $30.3 million in economic impact. The study said that 39,019 fans traveled from outside the County of San Diego to attend the game and an estimated 25,556 hotel room nights were sold. Total game attendance at Qualcomm Stadium was 55,789.
The 10th annual San Diego County Credit Union Poinsettia Bowl was held Dec. 23 and played host to the U.S. Naval Academy and San Diego State. Overall economic impact was $5 million. According to the study, 9,265 fans traveled from outside San Diego County to attend the game, and an estimated 5,310 hotel rooms were sold. Total attendance at the game was 33,077.
The mission of the non-profit San Diego Bowl Game Association is to generate tourism, exposure, economic benefit and civic pride for San Diego and its citizens by presenting nation's most exciting and entertaining bowl games and festivals of events.
Since 1978, the two games have combined to generate an economic benefit of over $730 million for the San Diego region.