Two Local Farmers Insurance Agencies Merge
Sunday, March 1, 2015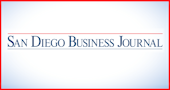 Marie Milliman Farmers Insurance announced its merger with Keith Roby Farmers Insurance.
They will operate under the name Marie Milliman Farmers Insurance.
Marie Milliman has been running her Rancho Bernardo agency since 1986.
Keith Roby has spent the past 26 years at his Poway location. He has also been in real estate, a path he intends to follow as he leaves the agency.
The merger makes Marie Milliman Insurance one of the largest Farmers Insurance agencies in North County, according to Milliman.